Friday, May 11th, 2018
Briarwood celebrates 50 years
New facilities showcased, fireworks top off events
By Sydney Albert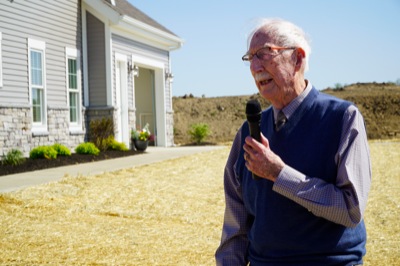 COLDWATER - It's been 50 years since Briarwood Village was founded by a group of civic-minded individuals, and on Thursday the business celebrated its anniversary with a ribbon cutting for its new expansion and a spectacular fireworks display that lit up the evening sky.
Before the ceremony, guests toured one of the recently completed independent-living cottages. Community marketing coordinator Janel Schulte said Briarwood eventually plans to have 22 independent-living apartments. Each apartment will be a two-bed, two-bath home with a living room, kitchen, garage and front and back patios.
Don Desch, 95, is one of the founding members of Briarwood Village. During the ceremony, he said he was filled with strong emotions.
"Fifty years ago, this was a big enterprise. … It was a little difficult to see the future completely, but it unfolded in front of us," he said.
The community welcomed Briarwood's creation and even helped raise money. Before helping to create Briarwood, Desch had worked at a funeral home in Toledo. He said no one wanted to go to nursing homes at the time because of the poor level of care.
Desch said grandparents had commonly gone to stay with their families as they aged. Two-story homes were common because they offered space for a multigenerational household. When he returned from serving in World War II, the situation had changed. Ranch-style homes were becoming more common and had no room for older relatives. In Mercer County, though, many seniors didn't have any place to go aside from a single nursing home in Rockford. Creating a place to provide care became his passion.
"The need was there. People say, 'Where did you see the need?' It was right there in front of us," Desch said.
Briarwood Village opened in 1968 with 50 beds and was later sold to HCF Management, which helped the facility continue to expand, Schulte said.
Desch also said that HCF has helped Briarwood reach its original goal of providing quality care for seniors, saying the important fact isn't who runs Briarwood as much as how Briarwood is being run.
Of all the improvements over the years, Desch said he feels the greatest accomplishment at Briarwood was establishing privacy for residents. People have a sense of community, but they also have a place to go when they want to be alone.
"I don't know where we're going from here other than to continue to provide what we have and add more homes if necessary, and in general be the apex of health care in Mercer, Auglaize, Van Wert, Darke counties."
Seeing Briarwood continue to grow has been a dream come true, and Desch said he's excited to see where the organization goes.
"To another 50 years," Desch yelled after cutting the ceremonial ribbon.