Saturday, December 1st, 2018
Show me the money
Ebbing's office brings nearly $35M to county since 2009
By William Kincaid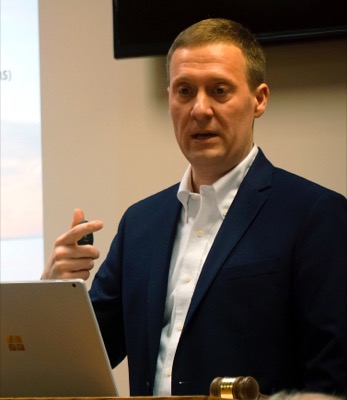 CELINA - The Mercer County Community and Economic Development office since 2009 has brought in nearly $35 million in federal and state grants and other incentives to help spark business growth and rebuild aging infrastructure such as streets, water lines and treatment plants.
That figure - reeled in by community development director Jared Ebbing and assistant Renee Muhlenkamp, the office's sole employees - consists almost entirely of grants, which the county government doesn't have to repay.
"We have received a pretty big chunk throughout the years, but I'm not going to apologize for that," Ebbing told the newspaper. "We all pay taxes in the area. Why shouldn't we raise our hand as high as we can to get our money back?"
Ebbing points to grant-writing experience and leveraging funding as key factors in snagging considerable awards from the likes of the Ohio Department of Transportation, Ohio Public Works Commission, Ohio Development Services Agency and Community Development Block Grant program.
"Renee and I have been working on grants like this for years, even before we came here," Ebbing said, adding the two worked at Fanning Howey Associates of Celina, learning about the agencies, procedures and processes related to grants.
"Years and years of writing narratives explaining why the need is there, explaining why the benefits will come if you do get the funds, is a big part of it," he explained.
This year alone, according to Ebbing's calculations, the office secured $4.57 million in grants, among them a $335,000 ODSA 629 Roadwork Grant to make highway improvements in conjunction with Mercer Landmark's proposed $26 million state-of-the-art feed mill in St. Henry.
He also scored a $225,000 629 roadway work grant and a $75,000 ODOT award to help finance street improvements to facilitate the Fremont Co.'s proposed $27 million expansion of its plant at 150 Hickory St., Rockford.
County-led efforts to snare sizable grants are often crucial to compel companies to set up shop in Mercer County, Ebbing said.
"We have to be able to provide infrastructure that makes sense to them that doesn't add to their costs," Ebbing explained. "If it doesn't really cost us as much at the county either, if we're able to get the state grants to make it happen, then yeah, it's a win-win. It's a win for the company. It's a win for the county and that's what the state grants are for.
Ebbing's office also sets its sights on community development-type grants on behalf of the county's municipalities, which he insists are just as important to the overall economic picture as the other grants tied directly to business startups or expansions.
"That's what sometimes people think that we're just the Mercer County Economic Development office. I've said from Day One, this is the community and economic development office so our job is to - in addition to all those other funds for companies - go after every dollar we can get from a community development perspective - and we've been very successful in doing that."
Ebbing said it's much easier pursuing economic development in a community with strong infrastructure already in place to attract potential businesses.
"By reinvesting back into us with our own tax money, it's produced good things. (Local) communities, I think, are looking pretty good. We've got water and sewer projects completed and underway," he said, adding that most towns also have sound curbs, gutters, sidewalks and other public amenities.
Ebbing works directly with village and city leaders on the Community Development Implementation Strategy board to map out priorities and gain a consensus on which project the county should "put all of its eggs into" financially each year, a strategy that involves using initial funding sources as leverage to land even more state and federal dollars.
"The worst thing you can do as a county is have your communities compete against each other for funding," he said.
Shining a light on the leveraging process, Ebbing pointed to Community Development Allocation Program grants, which are offered on a two-year cycle in amounts of about $160,000. Rather than divide the money for multiple small-scale projects, officials use the funds to garner additional dollars for one large project.
In 2017, for example, CDIS moved to apply $159,000 in allocation funds toward Mendon's water-related project, which entailed a new water tower, wells and some new water lines. The $159,000 was used to secure a $300,000 critical infrastructure grant and a $500,000 OPWC grant.
"All because the other villages were saying, 'Yeah, this can be Mendon's year,' " Ebbing said. "And as a county we benefit from that because we just got almost $1 million in grant money that if we would have just divvied up that $159,000 between five or six communities … it would have been fair for that year, but why not have the other communities kind of hang tight, we put our eggs in that basket, leverage, leverage, leverage, and boom, you get it that way."
Indeed, having matching funds is the first consideration on a grant application, Ebbing pointed out.
"They want to know that this is important to you as a county and you're leveraging your funds and you have match versus match," he said.
Also awarded this year were nearly $1.6 million for the Carthagena sanitary sewer project and $1 million for a new Chickasaw water treatment plant and tower.
Ebbing's office seized other kinds of grant opportunities in 2018: a $400,000 Community Housing Impact and Preservation Program grant to rehabilitate six owner-occupied homes, repair nine owner-occupied homes and provide rental assistance to 10 households and a $500,000 OPWC Clean Ohio Conservation Fund grant to help purchase 40 acres of land to build a fourth treatment train in the Grand Lake watershed.
With its noted strong economy, including a limelight-capturing spot on the front page of a recent edition of the Cleveland Plain Dealer, do state and federal government officials see the benefit - and return in taxpayer dollar investment - by awarding grants to Mercer County?
"I would hope the state looks at it that way, that if they're putting good money after good money, then good things happen," Ebbing replied.
Theorizing a bit, Ebbing said one perspective to consider is that counties producing lots of goods - whether it be agricultural commodities or machining parts - are also generating more tax dollars - making them ideal recipients of grants.
Mercer County is certainly one of those productive counties, with its 1,208 farms combining to generate $596 million in total crop and livestock receipts in one year, according to the 2016-2017 Ohio Department of Agriculture Annual Report.
"So a county, from an economic development perspective, that is producing a lot of product, that's creating a lot of tax revenue. That's creating a positive gross domestic product, you should be able to get some of that tax money back versus - no offense - a county or region that's not producing anything, that doesn't have much ag receipts or they don't have many companies that are actually producing a product that others are buying across the country and across the world," Ebbing said.