Saturday, December 1st, 2018
Division VI State Football Championship Game
Hornets best Flyers in title game
By Colin Foster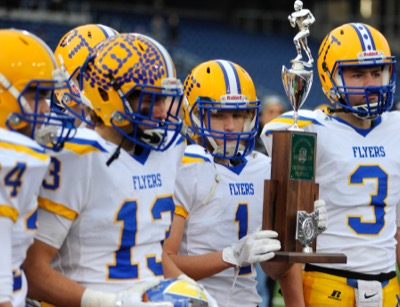 CANTON - Kirtland coach Tiger LaVerde recognizes Marion Local as the best small-school program in Ohio.
"They're the class of the smaller divisions," LaVerde said. "They've won 10 state titles. We have the utmost respect for coach (Tim) Goodwin and their coaching staff."
LaVerde's Hornets - a championship program in their own right - were simply better Friday.
The Hornets rushed for 303 yards, grounded the Flyers' high-powered offense and held on for a 16-7 victory in the Division VI state championship at Tom Benson Hall of Fame Stadium.
This marked the third state meeting in four years between the programs. The Flyers had their way with Kirtland last year in Canton, winning by a score of 34-11. But behind a sizable line and a stout effort by the defense, the Hornets flipped the script in 2018. Kirtland captured the program's fourth state title, finished off a perfect 15-0 season and improved to 2-1 against Marion in state championship games. The result denied the Flyers (13-2) an OHSAA record-tying 11th state championship.
It's the first time since 2009 that the Midwest Athletic Conference has failed to produce a football state champion.
"Our kids played hard," Goodwin said. "But their defense really made some plays when they had to. We had some opportunities, but we didn't cash in on them. Offensively, they took a different approach from last year because we're a different team than we were then."
The Flyers finished with 228 yards of total offense. They amassed 41 rushing yards on 21 carries, and Nate Bruns threw 35 passes, completing 16 for 187 yards with an interception.
As Goodwin noted, Marion Local had plenty of chances, especially in the fourth quarter.
Mario Rodin's 32-yard field goal put Kirtland ahead 16-7 early in the third quarter.
Marion Local drove into Hornet territory late in the third and faced a fourth-and-4. An incomplete pass returned the ball to the Hornets, but they were forced to punt after three plays. A blocked punt seemed to breathe new life into the Flyers. A blocked kick, however, took the life out of them.
Sam Huelsman, Isaac Eifert and Dylan Heitkamp got through the Kirtland punt protection to deflect the boot. The Flyers marched inside the 3-yard line but opted to settle for a short field goal attempt on a fourth-and-goal. The kick was blocked and Kirtland then successfully ran out the clock.
"We just didn't make plays," Bruns said.
"Those (Marion) kids won basketball last year and they won football," LaVerde said. "We knew going in that they were winners. We knew if we were going to win, we had to stand toe-to-toe with them, and our kids did a tremendous job defensively stopping the run and our defensive backs did a great job. We didn't give up any big plays. They got down there inside the 20 and our red zone defense did a great job."
Kirtland ran 14 plays and took nearly six minutes off the clock on the game's opening drive, but the Hornets had nothing to show for it. Kirtland faced a fourth-and-3 from Marion's 35 when the Flyers' Matt Rethman and Sam Huelsman chased Joey Torok to the sideline on a jet sweep, causing him to fumble out of bounds short of the marker.
The Hornets had an eight-play, 55-yard touchdown drive on their next possession. Torok ripped off a couple of big-chunk plays for Kirtland before Jake Neibecker leaped into the end zone for a 1-yard score in the first minute of the second quarter.
The game was tied minutes later, though.
Bruns, who had to be helped off the field by the training staff after a knee injury on Marion's first drive, returned to lead a touchdown drive. He picked Kirtland's defense apart with slants and out routs to Nick Tangeman and Matt Rethman. Marion faced a third-and-13 from just inside the Kirtland 40 when Bruns hit Rethman for a gain of 28 yards. Brandon Fleck put Marion on the scoreboard with a 1-yard run. Alex Klosterman's extra point knotted the score at 7-7 with 9:13 left in second.
Later in the half, Kirtland had a 14-play, 63-yard TD drive that took 5 minutes and 23 seconds off the clock. Luke Gardner's 7-yard TD rush returned the lead to Kirtland with 1:22 to spare.
Bruns delivered a couple of beautiful passes to Rethman and Tangeman when the Flyers got back the ball to set them up at Kirtland's 27-yard line. However, the half ended with Bruns' pass getting picked off by Connor Gron in the end zone.
Tangeman, who lit up Kirtland for 120 yards and two TDs last year, was held to four catches for 59 yards. Marion's other top receiver, Rethman, had a team-best five catches for 69 yards. Marion didn't have a run of longer than seven yards on the day. Bruns was Marion's leading rusher with three carries for 14 yards, but he didn't use his legs after hurting his knee on the first drive.
"They made it tough on Nick out there because (Connor Gron) did a great job," Goodwin said. "He probably covered him better than anyone has all year. But I think the difference in the game was our inability to rush the football, and we weren't confident in our ability to run. Forty-one yards is a struggle. We just don't have the big strong offensive line we've had in past years."
Kirtland finished with a 35:23-18:37 advantage in time of possession. Neibecker had a team-high 107 rushing yards on 17 carries. Torok tallied 90 yards on 17 carries and Powers added 70 yards on 17 totes.
"This is the biggest line we've ever had," LaVerde said. "But these guys are also great athletes. They play multiple sports, including basketball, and they can do a lot of things out there. We leaned on them today to keep the ball out of Marion's hands. They're a great program, they've won here 10 times, and the best thing we could do was run the football and control time of possession."