Wednesday, February 6th, 2019
'Skins get win
Lange leads St. Henry to win over St. Marys
By Gary R. Rasberry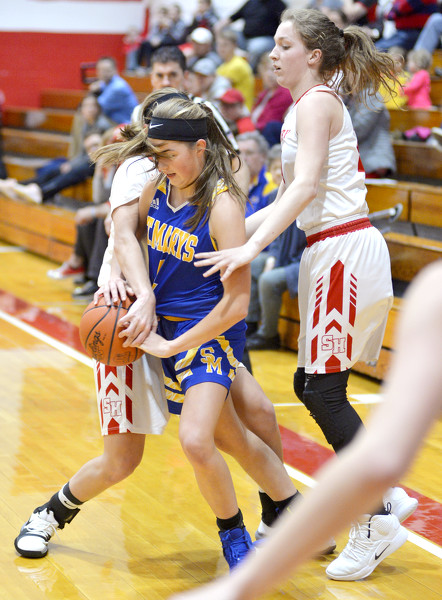 ST. HENRY - When the offenses struggled early for both St. Henry and St. Marys on Tuesday, the defenses shined and made it a close game.
The Redskins finally broke out from early scoring doldrums and outscored the Roughriders 25-12 over the final 12 minutes of the game to pick up a 49-36 victory in girls' basketball action at Redskin Middle School Gymnasium.
Neither team could do much scoring in the first quarter as St. Henry led 6-5 after eight minutes and the teams combined for 13 turnovers. St. Henry started its thaw as Danielle Lange scored eight of the team's 10 points in the second quarter and 11 of the Redskins' 16 first-half points. St. Marys also began to pick up the pace thanks to 3-pointers from Carly Caywood and Kendall Dieringer.
"Rebounding and defense are our keys," said St. Henry coach Wendi Moorman. "We always want to outrebound a team (St. Henry won the rebounding battle 31-23)."
"Both teams played pretty good defense," said St. Marys coach Jonathan Burke. "That was a bit of a shock for us. We knew (St. Henry) could play good defense from scouting (but) until you see it in person (and experience) their strength and size, you can't practice that in practice. That kind of bothered us, but I thought the girls handled it well."
The Redskins received a scare early in the third quarter when Lange went down and had to be assisted off the court. St. Marys worked hard to keep up with the Redskins, tying the game at 18-all on a trey by Dieringer and later at 24-all with 5:25 to go on a jumper by Ally Will. Moorman called a quick timeout to settle her charges down.
The quick chat paid off as Alyssa Siefring broke the tie with 4:17 remaining in the third quarter. After a scoreless Roughrider possession, Nora Vaughn knocked down a trey and her triplet sister Marlee followed with another 3. St. Marys missed four straight free throws before Nora Vaughn added a stickback to complete a 10-0 run as St. Henry took a 34-26 lead into the final quarter.
"That could rattle a team if a girl goes down injured," said Moorman. "They stepped right up and took care of business."
The Roughriders stormed back with a 6-0 run of their own to cut the margin to 34-30, but baskets by Allison Siefring and Alyssa Buschur and free throws by Siefring quickly raised the lead back to double digits for the rest of the game.
"The second half was definitely our half," said Moorman. "Our offense got going and we stepped up our defense. That's a good team. We talked about how active they were on offense. The first half showed. We haven't seen that in a while."
"We got to the free throw line a lot, which was a point of emphasis. We just didn't make our free throws," said Burke, whose squad was 5 of 15 from the stripe. "Right now, we're shooting less than 50 percent as a team, which is unacceptable."
Lange returned to play the fourth quarter and finished with 17 points thanks to a perfect 5-of-5 performance from the 3-point line. Cora Stammen and Addy Vaughn each added seven.
Carly Caywood led St. Marys with nine points. Dieringer added eight.
Both teams are back in conference play on Thursday. St. Henry hosts Fort Recovery and St. Marys welcomes Celina to Murotech Court for the Battle of Grand Lake.