Monday, March 11th, 2019
Back to state
Wildcats beat Redskins in regional championship game
By Colin Foster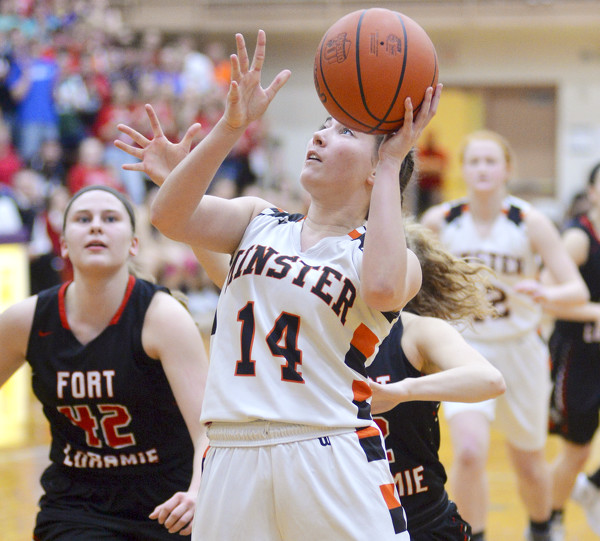 VANDALIA - The Fort Loramie crowd was buzzing when Marissa Meiring's and-1 gave the Redskins their first lead early in the third quarter of Saturday's Division IV regional final.
In a matter of minutes, Minster struck with a buzz kill.
Courtney Prenger had an 18-point, 10-rebound performance and the Wildcats ended the game with a 21-6 run for a 43-29 victory at the Vandalia-Butler Student Activities Center.
It was Minster's second consecutive regional final victory over Fort Loramie. The performance also atoned for a 56-48, double-overtime loss at Loramie during the regular season.
"I think the best thing to happen to us this year, for this game, was losing to them at their place," Minster coach Mike Wiss said. "I talked to them about it throughout the course of the week and they were all smiles when we talked about it. The best thing that happened was we took that 'L' to them, in the manner that we did, by shooting 11 of 27 from the line. We had the lead by six with three minutes left and then it was gone. This group right here really responded to some of the things we talked about."
Minster (26-1) advances to face Cornerstone Christian (23-4) in Friday's 1 p.m. state semifinal at the Schottenstein Center in Columbus. The Patriots defeated Dalton 35-29 in Saturday's Massillon regional final to advance. Friday's 3 p.m. state semifinal features No. 6 Ottoville (26-3) against unranked Shadyside (24-4).
More than 3,500 people bought tickets to see the No. 1 Redskins (26-2) battle the No. 2 Wildcats. It was tied for the second-largest crowd at the site this season, according to Vandalia-Butler Athletic Director Jordan Shumaker.
Prenger scored six points in the first quarter. Minster opened with an 11-2 run before settling for a 13-6 lead at the end. Dana Rose knocked down two 3-pointers in the second quarter for Loramie, which cut Minster's lead to 20-16 by halftime.
Meiring scored seven points to start the third quarter. Her 3-point play with 5:13 left gave Fort Loramie a 23-22 lead. But it went from game on to game over rather quickly.
On Minster's ensuing possession, Prenger pinned her defender and received a lob pass for an easy bucket, Ivy Wolf and Karly each followed with 3s and later, Barhorst dished to a cutting Richard for a left-handed layup to cap a 10-0 run. Fort Loramie never got closer than seven after that.
"What a job Meiring did to help them get that lead," Wiss said. "But we answered it."
"We had a great two minutes at the end of the second quarter and a great two minutes at the beginning of the third quarter, and I think that pretty much sums up our day," Fort Loramie coach Carla Siegel said. "I think we played a great four minutes there ... but we rushed our shots. I think the first time we played them we got the shots that we wanted. Our girls were set. We got some 3s. We got some inside shots. Today, we were off-kilter. None of our shots looked good in the first half.
"In the third quarter, I thought the girls settled down," Siegel added. "We had a good halftime talk about how to fix things. I was feeling pretty good, but after that, things deflated and they never got better."
Fort Loramie hadn't been held to less than 43 points in any game this season. The Redskins finished 11 for 37 shooting and were outrebounded 28-21. Minster went 16 for 38 shooting while holding an opponent below 30 points for the fourth time in five postseason games.
In the first meeting with Loramie, Prenger went 3 for 15 shooting and finished with 10 points. The District 8 Player of the Year was 9 for 12 shooting in Saturday's victory.
"I told Courtney this week 'We need a big one out of you,' " Wiss said. "Courtney delivered."
"She just had a great game and that happens sometimes," Siegel said. "Defensively, I just don't think we played her very well. We didn't have backside help like we normally do. They were lobbing it to her, so we started playing behind her and we let her touch the ball too many times."
Ivy Wolf had six points for Minster. The Wildcats also received big minutes off their bench from Barhorst and Richard, who scored seven and five points, respectively.
"Danielle Barhorst had a huge 3 in the first half," Wiss said. "Karly Richard with a huge 3 over here and then she went backdoor for a layup.
"Your bench has to give you big minutes," Wiss continued. "I'm just a guy trying to lead them in the right direction. They're the ones who put the work in."
Meiring had 11 points to lead Loramie, which was seeking its first trip to state since winning it all in 2015.
Defending state champion Minster will make its fifth trip to Columbus. The Wildcats are just the fourth MAC program to reach the state basketball tournament in back-to-back years. Fort Recovery was the only team to win consecutive titles (1990 and 1991). With two more wins, Minster can duplicate Fort Recovery's feat and capture the program's fourth championship.
"Carla Siegel and I talked before this game started," Wiss said. "The conversation was about how privileged we both are to have the kids that we have in two small-school districts to lay it on the line as hard as they do. Carla said 'A great team is going to win this game and a great team is going to lose this game.' It's just sad that has to happen."