Monday, March 11th, 2019
Chmielewski has All-Ohio finish
By Gary R. Rasberry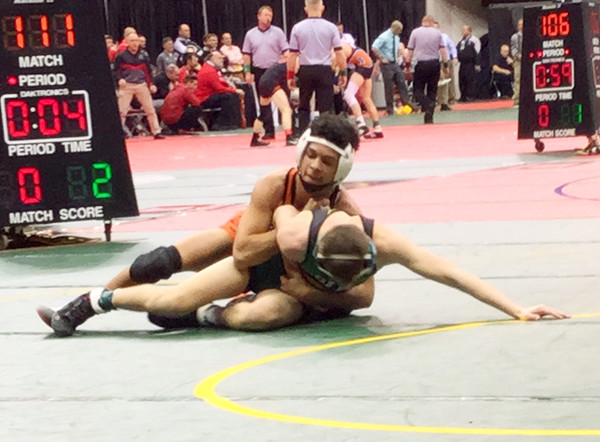 Compiled by Gary R. Rasberry

The finish might not have been the one that Brian Chmielewski wanted, but the Coldwater senior can call himself an All-Ohio wrestler.
Chmielewski lost to a familiar opponent in the seventh-place match at 113 pounds in the Division III State Wrestling Tournament on Saturday at the Schottenstein Center.
The eighth-place finish allows Chmielewski to become the seventh Cavalier wrester to earn All-Ohio honors.
"If felt good," said Chmielewski via telephone. "After losing my first match, I didn't think at first I would make (to the podium), but I told myself I would get the next best thing. That's what I did to make it back to eighth.
"At the beginning of the season I was looking at the rankings and I wasn't ranked top 10. I think I was 19th or 20th. I told myself I was way better than that. I worked hard and proved that I was one of those top (wrestlers) in Ohio."
After losing in the consolation quarterfinal on Friday night, Chmielewski dropped into the seventh-place match on Saturday morning. His opponent was Troy Christian's Troy Kennedy, a wrestler that Chmielewski had faced three times already this season, losing the first two meetings before winning in the third-place match at the Troy district.
"The first time he completely killed me," said Chmielewski of Kennedy. "Second time I lost by a takedown and the third time I beat him."
The battle for seventh was a tough on. Kennedy led 2-0 after the first period.
"He picked bottom (position) in the second period and I rode him the whole (two-minute) period," said Chmielewski. "I chose bottom (in the third), got out (for an escape point). He took me down and I reversed him, which made it 4-3. I cut him (let him escape) to try and take him down again to tie the score up. Last second, I dived at his leg to try to get a takedown and he ended up taking me down at the end."
Although the loss was tough to take, Chmielewski, who ends his season at 47-12, was happy to get the chance to compete in front of the large crowd at the Schottenstein Center.
"It's amazing to be (down on the floor): the lights, the people, everything," said Chmielewski. "I was kind of overwhelmed going into my first match. I was still staring in the crowd."