Wednesday, April 10th, 2019
ODA to increase funds for nutrient plans
By William Kincaid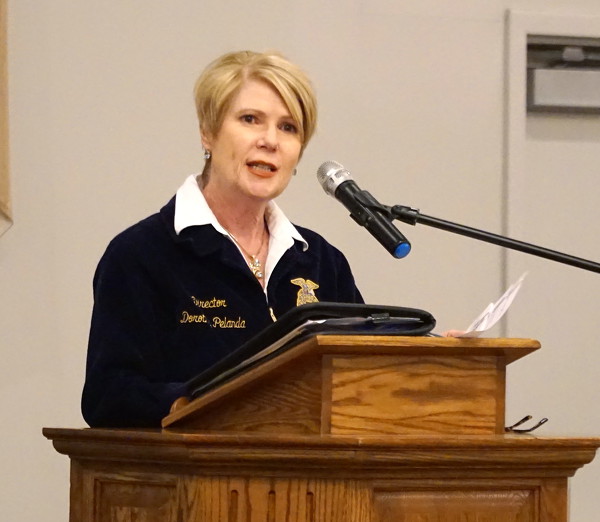 CELINA - Ohio Department of Agriculture officials plan to spend millions of dollars to improve soil testing and nutrient-management plans, according to ODA Director Dorothy Pelanda.
Pelanda, the keynote speaker at Tuesday night's Mercer County Republican Party's Reagan Day Dinner, said the challenge that lies ahead for her agency is to use every dollar of an anticipated $30 million allocation to effect positive change that can be measured down the road.
But measurable progress in water quality is going to take time, maybe even years, Pelanda stressed to the audience.
"It is very clear that we need to change the conversation about metrics and measuring success," she said.
Once the state budget is approved this summer, ODA officials plan to spend $30 million to streamline soil testing and nutrient management plans.
"Farmers have said to me, 'Dorothy, the soil tests are not uniform. We don't understand them. We don't understand what they're supposed to test and what they mean,' " she said. "(That's) a challenge we are ready to take on and improve upon."
Pelanda has also heard from farmers who feel that nutrient- management plans are complicated, expensive and require excessive documentation.
"(That) is a challenge we are also taking on," she said.
Terry Mescher, a conservation engineer with ODA's Division of Soil and Water Conservation, is working with Pelanda and Gov. Mike DeWine to develop an online nutrient management plan that is simple, affordable and requires less documentation.
"Terry's goal is to have that online nutrient-management program to be able to be completed within 30 minutes, thus allowing farmers to understand ... based upon what the soil test says (and) what the nutrient management does, (how) to apply fertilizer and other nutrients in a more manageable way," Pelanda said.
She also assured attendees that many state and national officials are focused on strides taken in the Grand Lake area.
"It is important to note that water-quality issues in GLSM, as we call it, were documented prior to the 1960s but the algal bloom of 2010 reached historic levels, as we know," she said. "The designation of a watershed in distress is the first of its kind nationally, and the rules are focused on livestock-production facilities and manure-application practices."
It is so important for farmers to tell their stories when addressing positive steps made in water quality since that algal bloom, she emphasized.
"Going forward, we need to tell a different story about what's happening here at Grand Lake St. Marys through better edge-of-field data testing and water testing and teaching farmers how to take these tests and talk about them," she said.
Pelanda said she has had exciting, engaging and insightful conversations with people committed to improving Grand Lake's water quality.
"I talk about my visit here as I travel the state because I was really impressed with the commitment and the innovation that farmers and soil-and-water quality experts had," she noted.
She also spoke highly of Mercer County's agricultural heritage.
"Mercer County, as we know, is one of, if not the most, concentrated agricultural area in the state," she said. "There are more than 1,200 farms in this county alone, and these farmers here in this room and elsewhere work hard every single day to provide the things all of us need to live and survive."
Mercer is the second-largest county in the state in cattle and calves and third in milk cows and corn production, she added.
"What agriculture gives back to this community is immense - jobs on and off the farm, a boost in the economy, a rural way of life," she said.