Wednesday, April 10th, 2019
Big sixth inning lifts Indians over Wildcats
By Colin Foster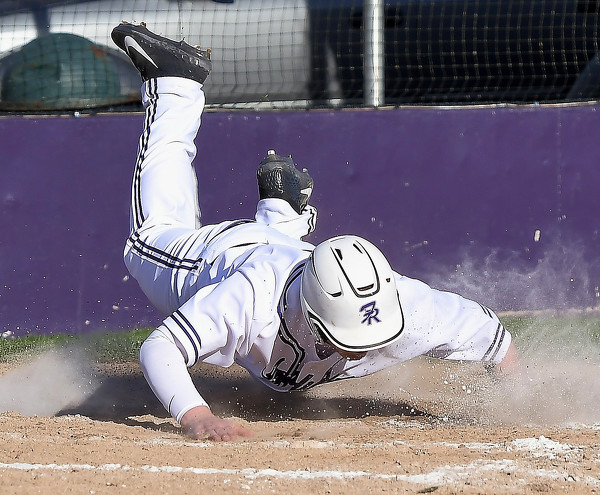 FORT RECOVERY - Minster struck first.
Fort Recovery answered back.
The Indians struck late.
And the Wildcats had no rebuttal.
With one big inning, Fort Recovery got its biggest win of the season.
Trailing by one run and down its final six outs, Fort Recovery hung a six-spot on the scoreboard in the sixth inning to stun Minster, 10-5, in MAC play on Tuesday.
Joe Homan had the go-ahead two-run single in the sixth and Riley Post pitched a scoreless seventh as the defending MAC co-champion Indians improved 6-2 overall and 2-0 in conference play.
"It is a big win," Fort Recovery coach Jerry Kaup said. "I thought we did a really nice, mature job at the plate with our at-bats. I was pleased with the swings we made up there."
Minster scored three runs in the first inning, but its pitching was problematic, totaling eight walks and two hit batsmen. The Wildcats fell to 6-2 overall and 1-1 in conference play.
"They play with a lot of energy when they have the lead," Minster coach Mike Wiss said. "That's what I asked our kids to do: get the lead early. Well we got the lead early, but we gave the damn thing right back. Like anything, baseball's a game of momentum. For most of that game, the momentum was in (Fort Recovery's) dugout."
Minster's Jack Olberding opened the game with a high-arcing triple to left-center field. After a walk to Adam Ketner, Jack Heitbrink hit a one-run double. An outfield drop allowed Ketner to score. Heitbrink later made it 3-0 when he took home as August Boehnlein was picked off at second during a double-steal attempt.
Minster had a chance to add on to its lead in the second inning as Dylan Sharp led off with a double. But Fort catcher Garrett Faller picked off Sharp at second midway through Jacob Niemeyer's at-bat.
Wildcat starter Noah Enneking walked three straight batters in the bottom half of the first, and Ian Homan made him pay with a two-run single.
"The throw that Garrett Faller made to nab that runner was a huge play for us," Kaup said. "It was big for us to limit to them to three runs. Three runs sounds like a lot, and some days it can be insurmountable. But today, the ball was flying around quite a bit and we had an opportunity to come back. We answered back with a couple of runs in the bottom of the first. That put us in position to compete for the rest of the game."
Fort Recovery's Cobe Wendel, who reached base safely in all four plate appearances, made it to first on an error in the second inning. He later scored the tying run on Regan Martin's RBI single down the right-field line.
In the third, Olberding was hit by Fort starter Kody Shinbery. Olberding worked his way to third with a steal and a throwing error. Heitbrink returned the lead to Minster with an RBI hit.
In the bottom half of three, Riley Will tied the game at 4-all with a run-scoring single.
Both starting pitchers were off the hill before the third inning ended. Cole Grisez replaced Shinabery and Ethan Lehmkuhl relieved Enneking.
Olberding led off Minster's fifth-inning at-bat with a single. A Ketner bunt and a Heitbrink groundout put Olberding on third. He scored the go-ahead run on a wild pitch.
Ryne Post singled to open the sixth for Fort Recovery. Then Lehmkuhl plunked Riley Post as he was lining up for a sacrifice bunt, and the runners moved into scoring position on a wild pitch. Wiss intentionally walked Ian Homan to load the bases. Ryne Post scored the tying run on an outfield error, and Joe Homan followed with his two-run line drive. Later, Ian Homan scored when Minster had an errant throw to third on Shinbery's sac-bunt attempt and Martin hit a sac fly for an RBI. Then the player who started the inning with a hit, Ryne Post, made it 10-5 with an RBI single.
"Fort Recovery took it right to us with their stolen bases, with putting the ball in play hard," Wiss said. "We didn't get ahead of too many batters today. In three of the first four innings, their leadoff man was on on a walk. That gives an advantage to Fort Recovery. They know how to run and they know how to put the ball in play, especially when we're behind in the count.
"It was a tough day in Minster - I get that," Wiss said. "But there was still a ballgame today. We've got to learn from it and get better."
Riley Post pitched the final inning and 1/3 to earn the victory, striking out two.
"They really got off to a rockin' start," Kaup said. "Kody settled down and got through the second inning, but Cole Grisez came in and gave us an opportunity. He came up really big today. He kept us close and then we were able to scratch together some runs, get back on top, and then Riley Post came in and was able to finish the deal for us."
Ryne Post finished 2 for 3 with two runs scored and three stolen bases for the Indians. Joe Homan went 2 for 4.
Heitbrink finished 3 for 4 with two RBIs for Minster. Olberding went 2 for 3 with three runs scored.
Prior to the opening pitch, Fort Recovery presented Minster with a donation to the Dayton Children's Hospital in the name of Jackson Hogenkamp, who passed away on Friday.
Each team is back in action on Thursday. Fort Recovery visits Delphos St. John's and Minster hosts Coldwater.