Wednesday, December 11th, 2019
Cavs beat Bulldogs
By Colin Foster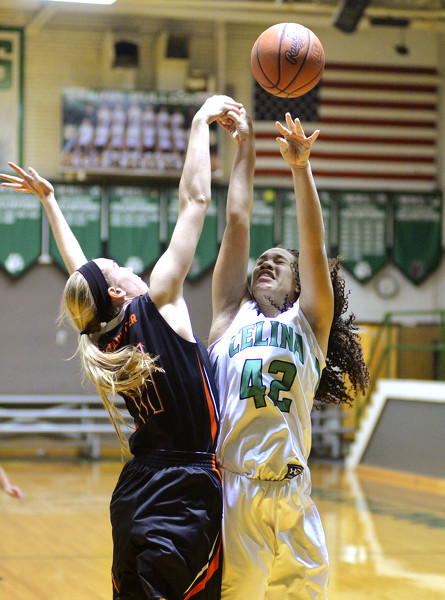 CELINA - Late-game pressure defense by Coldwater made last week's loss at New Bremen a little more respectable.
Coldwater's pressure was turned all the way up for 32 minutes against Celina on Tuesday.
Coach Keenan Leichty dialed up nearly every defense in his playbook, and it gave Celina fits as Coldwater pulled away for a 45-27 victory in girls basketball action at the Fieldhouse.
"I don't think I did a good job, especially in the New Bremen game, of switching defenses as much I usually do," said Leichty, whose team lost to New Bremen 51-39 last Thursday. "That's one thing we've been working on as far as our focus, just being able to switch up into different things. Sometimes we get a little bit out of wack, but I thought we did a really nice job tonight. We've done a really good job over the last week of getting back to some of those things that help us create a little more offense and energy."
Lauren Gilliland led the Cavs (2-2) with game-highs in points (18) and rebounds (12). Kate Leichty and Annelise Harlamert added 12 apiece as Coldwater outscored Celina (1-2) 24-9 after the intermission.
"We executed our game plan in the first half and we were only down three," said Celina coach Cenzie Rushton, whose team finished with 24 turnovers. "We emphasized limiting our turnovers at halftime, and in the second half I saw us run things that I've never put in and we've never ran before. I'm not sure where some of that comes from. I think that's going to have to be an area we grow in - playing Celina basketball even when we're down, not looking at the scoreboard and continuing to execute the game plan."
The score was tied at 3, 5, 8 and 10 in the first quarter. Coldwater had 14 field goal attempts. Celina, meanwhile, was a little stagnant against Coldwater's zone and launched just seven shots. Still, it was tied at 10 entering the second frame.
Harlamert made her second field goal to start the quarter and Gilliland scored the next five to complete a 7-0 run. The Bulldogs, who had 10 turnovers in the game's first 11 minutes against Coldwater's mix of zone and half-court pressure, didn't go away.
Makenna Ashmore made her second 3-pointer of the game and Maria Lutz added a 3-point play as the Bulldogs closed the half on an 8-4 run to trail 21-18.
The Bulldogs made just 1-of-7 shot attempts in the third quarter, though. Led by Kate Leichty's five points and Gilliland's four, Coldwater opened up a 30-20 lead after three quarters.
Harlamert scored eight of her 12 points in the fourth quarter as Coldwater's lead quickly grew.
Before the season began, coach Leichty said finding a third scorer to accompany his two leading scorers, Gilliland and Kate Leichty, would be a huge key. Harlamert provided that spark on Tuesday.
"Lauren, Harly and Kate, those ladies need to have double-digit scoring games," coach Leichty said. "We also need find other people to do some nice things, and I thought overall everybody did a pretty good job. We finally started finishing at the basket with some of the bunnies that we've been missing."
Ashmore finished with a team-high six points for Celina, which was outrebounded 33-25 and had just 32 shot attempts compared with Coldwater's 51.
"We had a game plan and we didn't execute it," Rushton said. "In addition to that, we just started doing our own individual thing and not running the things we were supposed to run. Their defense really played an impact on that. By switching things up on us so much, I don't think our girls on the floor were really sure what were supposed to be in and what we weren't supposed to be in. At the end of the day, I thought they played harder than us and outrebounded us, for sure, and you've got to win the rebounding battle and you've got to win the assist-to-turnover ratio to get the 'W.' "
Each team returns to league action on Thursday. Coldwater visits St. Henry and Celina travels to Shawnee.