Saturday, January 11th, 2020
Fantastic finish
Panthers rally past Flyers
By Colin Foster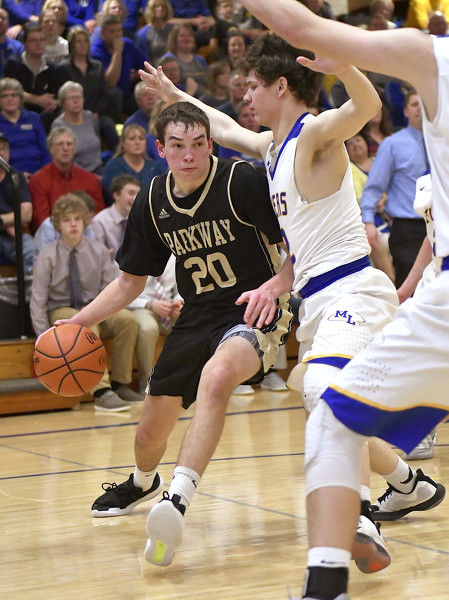 MARIA STEIN - It was a fantastic finish for Doug Hughes' Parkway Panthers Friday night.
And a frustrating finish for Kurt Goettemoeller's Marion Local Flyers.
Parkway, which was held within arm's length by Marion Local for the first 29 minutes, finally got over the hump on Dylan Hughes' runner with 2.8 seconds remaining as the shot clinched a 44-42 victory at the Hangar - the Panthers' first positive result against the Flyers since Feb. 6, 2009.
"In the preseason, we didn't work a lot on late-game situations and it really bit us," coach Hughes said. "We lost four games that all came down to the wire with a minute to go. We just didn't execute, and that's on us as coaches. We've been working on that and are doing a much better job of finishing games. We've won six of seven and we're playing good basketball."
Goettemoeller was singing a different tune. This one felt like it got away, he said, after his team committed a number of costly turnovers and couldn't buy a free throw in crunch time.
"None of us finished this game well," Goettemoeller said. "I didn't do a good job of staying calm and managing the game at the end, and our players did a not do a very good job of finishing the last 3 minutes of the game. We started focusing on the result instead of focusing on the process."
Parkway (8-4, 2-1 MAC) and Marion Local (2-7, 1-2) met in football on Sept. 13. Friday's hoops battle was about as physical as a football game, too.
Marion Local made four 3-pointers in the first quarter - three of which came from Alex Eyink and another by Brady Ronnebaum. Caleb Kinney scored six for Parkway, Dylan Hughes added four and Jason Luth put in the final four to tie it at 14-apiece.
Marion Local's Peyton Otte had the first five points of the second, including a left-handed floater. Parkway was held scoreless until the 2-minute mark, when Kinney converted a layup. Marion went into the locker room with a 25-17 advantage, limiting Parkway to 1-of-7 shooting in the second frame.
Parkway cut its margin to three points early in the third quarter. Then Eyink struck again. Held to just two points after his 11 in the first quarter, Eyink scored all eight Marion points in the third. The Flyers took a 33-26 lead into the fourth.
"Alex was feeling it tonight," Goettemoeller said. "He stepped up big time. He wanted it. He was making shots from everywhere. When they crowded him, he was able to get to the rim a few times."
Caden Slusher made his second and third 3s of the half to start the fourth quarter. Parkway finally made it a one-possession game with 1 1/2 minutes left as Nick Hawk converted two free throws after Charlie Huelsman committed his fifth foul. The Panthers and Flyers exchanged turnovers on the following possessions. Hawk drew a foul with 15 seconds to play and made 1-of-2, which kept Marion ahead 42-41. But Marion missed the front end of a 1-and-1, and Dylan Hughes raced down the floor with the ball in his hand, did a little hesitation dribble and then headed to the hole for the go-ahead bucket.
"I thought it looked good all the way off his hand," said coach Hughes, Dylan's dad. "The coaches were contemplating, they suggested for me to call a timeout. I looked up and there was about seven seconds to go and Dylan had the ball in his hands. He can create his own shot off the dribble and was able to do that there. I thought it was a really nice play."
The Flyers had no nice plays left, though.
Forced to make a pass deep down the court, Marion Local turned over the ball. After fouling Kinney with two seconds left, Parkway's leading scorer made his first free throw attempt before missing the second. Hawk snatched the miss, and Parkway ended a 10-game losing streak against Marion.
"We really guarded the heck out of them for 3 1/2 quarters, and that team's leading the league in scoring," Goettemoeller said. "This is the second week in a row where we've guarded really well, including St. Henry last week. Our defense is really good. There at the end we just didn't have an answer. They just kept going inside and got us in foul trouble."
Hawk scored seven of his 12 points in the fourth quarter. Kinney added 11, Slusher nine and Hughes eight for the Panthers, who have now had seven games decided by seven or fewer points.
"We knew this was going to be a struggle," coach Hughes added. "This is a very difficult place to play. They play great defense. They're as well coached and as well prepared as any team we're going to face all year. We just needed to stay tough, stay together and continue to battle. I thought our guys did that tonight."
Eyink led Marion Local with a game-high 22 points. Otte added eight.
Marion Local visits Van Wert tonight. Parkway will take a road trip to Ridgemont on Tuesday.