Wednesday, February 12th, 2020
A tie at the top
'Riders beat 'Dogs to create 3-way share for WBL
By Gary R. Rasberry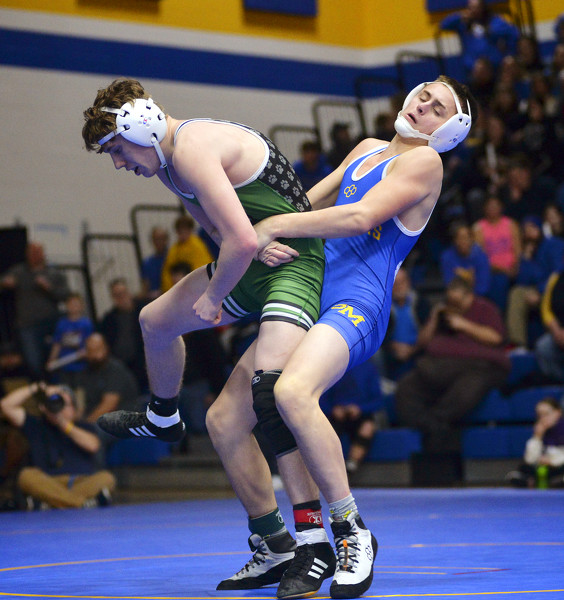 ST. MARYS - St. Marys wrestling coach Larry Gruber called it a bit of luck that his lighter weights came up towards the end of contest with Celina.
Two big pinfall victories at 113 and 120 pounds clinched the Roughriders' 38-28 win over the Bulldogs in the Western Buckeye League dual match season finale on Tuesday at Murotech Court.
Celina was denied its first outright regular season title since 2007-08. The Bulldogs share the league crown with St. Marys and Wapakoneta. The Roughriders claimed their first regular season title since 2017-18.
"We knew it would be tough," said Gruber. "A lot of it would come down to who got pins (St. Marys had a 4-3 advantage in wins via pinfall). Things fell into place at the right spots. It could have gone either way."
The Bulldogs opened the contest with a 7-3 decision by Nathan Wilson over Garret Donovan at 132 pounds, followed by a 15-1 major decision by Celina's Jaden King over Jace Schaefer at 138. St. Marys took the 145 match when Keegan Sharpe got a reversal of Celina's Jakob Poor late in the third period to claim a 4-2 win. Ethan Ly put Celina up 10-3 with an 8-2 win over Kayden Sharpe at 152.
Tommy Mabry, St. Marys' lone senior, needed just 55 seconds to pin Stephen Warner at 160 to cut Celina's lead to 10-9. Mason Saeler put the Roughriders into the lead at 170 with a pin on Tyler Carlin. Stash Patterson came away with a 21-6 technical fall victory over Celina's Alex Stachler at 182.
The most exciting match of the night came at 195 as St. Marys' Carter Sharpe battled Celina's Cory Fortkamp. Fortkamp managed an escape in the final seconds of regulation to force overtime. In the extra session, Sharpe found an opening late and got a takedown with six seconds remaining to gain a 5-3 decision to make the score 23-10.
"If we flip that last-second reversal at 145 and the takedown a 195, we win this (contest) by two points," said Celina coach James Miracle.
Celina rebounded at the top weights as Joey Posada pinned Brice Saeler in 2:59 at 220 and Cayden Thomson pinned Braden Saeler in 1:40 at 285 to cut the St.Marys lead to 23-22 going into the lighter weights.
Michael Crites got St. Marys rolling again with an 8-1 decision over Landin Wallace at 106, Tyler Hisey followed with a win over Derrick Slater at 113 to make the score 32-22 with two bouts remaining, forcing Celina to rely on two pins or a pin or technical fall to rally for the win.
Trevor Hisey, last season's WBL 113-pound champ, made sure there would be no rally, pinning Zack King in the first period of the 120-pound bout to clinch the match. Joe Warner scored a pin at 126 over Isaac Torsell to give Celina a consolation win.
"Lucky to get where our strengths were," said Gruber about the wins at 113 and 120. "We knew going into some upper weights, we didn't know if we had personnel (to win). We started seven freshmen out there. Gives us something to build on."
"We had it mapped out tonight. We knew we'd be short-handed with some of our guys not wrestling tonight," said Miracle. "It came down to their freshmen were better than our freshmen."
Now Celina and St. Marys head to Bath on Saturday for the WBL tournament. Miracle knows that every match is important if the Bulldogs want to win at least a share of the overall league title.
"We know what we have to do," said Miracle. "Whoever wins it (between Celina, St. Marys and Wapakoneta) wins it."