Monday, February 17th, 2020
Beard contest a close shave
Contestants flock to Brew Nation's 'Love is in the Hair' contest
By Leslie Gartrell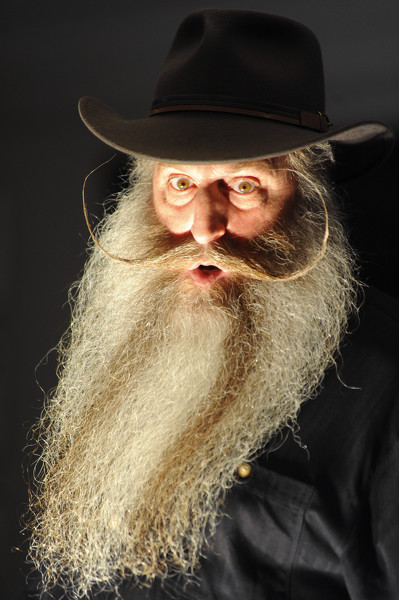 CELINA - Things got a little hairy when facial hair aficionados from across the nation took over Brew Nation on Saturday night.
The Mercer County Facial Hair Club hosted their second "Love is in the Hair" facial hair competition at the brewery. Contestants served up looks ranging from burly beards and magnificent mustaches to fake follicles made out of ribbons, moss and paper.
Men, women and children alike competed in 13 various categories to raise money for the Cancer Association of Mercer County. The Mercer County Facial Hair Club is a certified 503(c) charity, said officers Seth Kerns, Ty Shelby and Rick Mcnaughton.
Facial competitions are often known for their charitable nature, Shelby said. Facial hair clubs are a great way to build camaraderie and a sense of community among people with or without facial hair, Kerns said.
Before the competition begins, men, women and children mill about and catch up with friends they haven't seen since their last competition. Beards and mustaches of all shapes and sizes are curled up into smiles as people hug their bearded brethren and sip on craft beer.
The group has done charity bike rides in the past to raise money to purchase bikes for kids in the community or pay for delinquent lunch accounts at different schools. The club is always looking for causes or families to support, Mcnaughton said. Whether it's raising money for a family in need or showing up in full force to support another group, the club is always willing to lend a hand, he added.
The Love is in the Hair competition is a regional competition, Shelby said, so competitors from Indiana, Kentucky, Pennsylvania, Michigan and beyond came to strut their stuff on the make-shift stage.
Strutting is actually important to the competition, Shelby said. Competitors are judged on showmanship and hair color, size and thickness among other qualities. For contestants, facial hair isn't just an expression of their personal taste - it's a lifestyle. For many competitors, there's a lot of sentiment tied to their facial hair. Styling it becomes a routine and part of everyday life.
Categories like ladies creative, ladies natural and kids 15 and under are usually big draws, Shelby said. Some competitions aren't as family-friendly as the ones the Mercer County Facial Hair Club hosts, he added.
However, the "long monster beards," as Shelby describes them, that people expect to see were there as well. Mark Byrnes, 60, of Detroit, Michigan, and Wayne Patmore, 52, were two such competitors.
Byrnes, a member of the Murder City Facial Hair Crew, started competing four and a half years ago. After tying for third place in the North American Championship two years ago, Byrnes went on to become the 2019 National Champion in the styled mustache 6-12 inch full natural beard category.
A semi-retired photographer, Byrnes said it can take 45 minutes or up to an hour to style his mustache. For Saturday's competition, Byrnes could be seen sporting a mustache that curled up to the tip of his hat and a lengthy, salt-and-pepper beard.
Patmore of Celestine, Indiana, said he got into competing a few years ago to raise money for charities. A member of the Bearded Villains of Southern Indiana facial hair club, Patmore said he heard Love is in the Hair 2 would be a good competition and decided to see for himself.
Byrnes said the facial hair competitions are nice because of the camaraderie amongst other men.
"This is the only place I see men compliment each other for the way they look without it being weird," Byrnes said. "You can't fake this."
Brad Anderson, 41, can vouch for that. The South Milford, Indiana native has competed in Celina before. An engineer by day, Anderson sported a floor-length faux fur coat, a fanny pack, a golden glittery sweater and floral glasses to accentuate his styled mustache for the competition. One side curled upwards while the other curled downwards.
The added flair represented his laid-back attitude and displayed his "I don't care what people think" mindset.
Anderson said he began growing out his mustache after losing his parents within the course of a year. Growing his facial hair, joining the facial hair community and raising money for different causes helped him cope, he said.
"There's a lot of gruff looking people here, but they're all here to give back," said Anderson.
Judge Stuart Eggers, 33, won Best in Show at last year's competition and was asked to judge after receiving a perfect score, according to Shelby. Eggers' beard is roughly 2 feet of long, luxurious locks of hair, which he usually has to keep braided to keep his handsy toddler from tugging too much.
Each person has their own hair-care routine, with many competitors saying they take the time to blow-dry their beards and occasionally add products like beard oils or balms. Eggers is even sponsored by male grooming company Mad Viking Beard Co. and uses their products regularly to keep his hair healthy.
Katie Haas, 40, came to compete in the ladies creative category. Sporting a red, white and blue patriotic theme, Haas created a "beard" made of blue ribbons. The Kendellville, Indiana competitor said it took her roughly four hours to make. Like many others, Haas said she doesn't compete to win.
"I really like that it's always for a good cause," she said.
For more information about the club and future events, visit the Mercer County Facial Hair Club on Facebook. Mcnaughton said the group is always looking for recommendations for charities to sponsor at their next event and nominations for families in need. The group would attend other fundraisers if organizations reach out and ask, Mcnaughton said.