Monday, February 17th, 2020
WBL Wrestling Tournament
Doing what had to be done
St. Marys edges Celina for first league championship in 43 years
By Gary R. Rasberry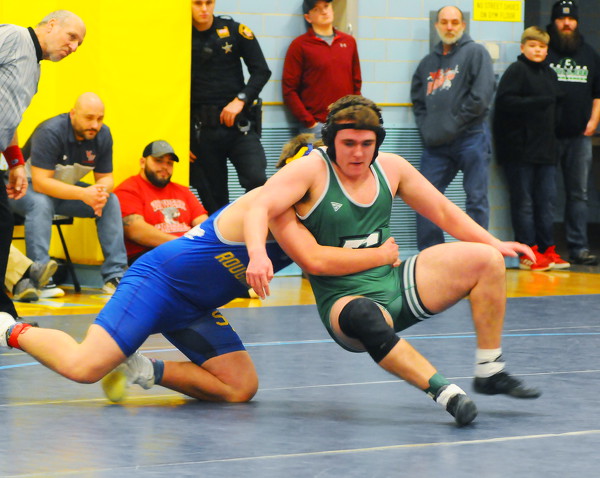 BATH TOWNSHIP - The scenario was simple: win the Western Buckeye League wrestling tournament, capture the league title.
St. Marys and Celina were determined to claim the crown, and it came down to the wire on Saturday.
The Roughriders put seven wrestlers in championship matches and won four titles en route to holding off Celina 151-145 1/2 to win the tournament and capturing the program's first outright league title. It is also the first title for St. Marys since 1977 at Bath High School.
"Right now, it's in the clouds," said longtime St. Marys coach Larry Gruber, who was an assistant coach under Dick West when St. Marys shared the 1977 title with Defiance. "We won four titles, but what you really need is the backup of winning third-place matches. We had just a couple of those."
St. Marys' win over Celina in the final league dual match of the season created a three-way tie along with Wapakoneta at 8-1. Whichever team from the trio that won on Saturday would get the title on their own.
"A couple of weeks ago, we knew what had to be done and that's beat Celina in the dual. Otherwise, we'd be sharing it again this year," Gruber said.
The victory that sealed the championship for St Marys came at 170 pounds as Mason Saeler pinned Kenton's Mason Rhoades with 23 seconds remaining in the match. The bonus points for the pin allowed the Roughriders enough points to hold on at the end.
"I didn't know it was that important," said Saeler after the final scores were announced. "I was just going out there (wrestling) for my first title. I went out and wrestled as hard as I could."
Senior Tommy Mabry defended his 160-pound title from a year ago with a major decision over Carter Bays of Kenton.
"I felt like I could wrestle better," said Mabry. "But it's a league championship."
Trevor Hisey, a league champ at 113 last season, moved up to 120 pounds to face Wapakoneta's Keaton Elling. Hisey won 12-5 to claim his second league title.
"I knew going in I was going to give up some weight bumping up to 120 so we could fill all the weight classes," said Trevor Hisey. "I knew I was going to be smaller, so I had to use my technique."
The 113-pound title remained in the Hisey family as his brother, Tyler, pinned Wapak's Bryce Knapke in 28 seconds to capture his first league title.
"Excited," said Tyler Hisey. "It's kind of cool."
Roughrider Garrett Donovan faced off against Defiance's Tristan Villareal in the 132-pound final. Villareal, the defending champion, picked up a 14-2 major-decision victory to become a four-time WBL champion.
At 182, Roughrider Stashu (Stash) Patterson took a pinfall loss to Bath's Zachary Simpson.
Celina had battled injuries and other issues that had kept wrestlers in and out of matches. After trailing by as much as 50 points earlier in the tournament, the Bulldogs came within 5 1/2 points of claiming their first title since 2008. That was something coach James Miracle took pride in.
"There's so many things that we could have done this year," said Miracle. "I'm proud of how the kids wrestled."
Landon Engle, who was runner-up at 113 last season, faced Shawnee's Cory Beach for the 126-pound title. Engle was able to get the advantage midway through the third period and recorded a pinfall at 4:59 to win the title.
"Last year I lost to Beach by four in the sectional tournament," said Engle. "I was able to pin him in the third period, so my cardio was up. (My cardio) got me through the match."
At 195 pounds, Celina's Cory Fortkamp faced St. Marys' Carter Sharpe for the second time in a week. Sharpe had won the dual match contest in overtime and was leading 1-0 before being called for stalling, giving Fortkamp the tying point to send the bout into a one-minute overtime where the first to score any points wins. Fortkamp was able to get Sharpe down to his belly and get into a controlling position to earn the takedown to win the match and title 3-1.
"I feel great being a champion my senior year," said Fortkamp. "I want to say that (Sharpe) was one of the toughest opponents I've had all year. Either way it could have turned out, I'm glad we're friends and great wrestlers. I wish him luck the rest of the year."
The other title match result did not go Celina's way, however.
Jaden King, who had to medically default last year in the 132-pound title match, reached the 138-pound title match to face Conner Douglass of Elida. Douglass dominated to earn a technical fall (winning by 15 or more points) with a 16-0 decision.
While no other Bulldogs made championship matches, it was the effort in the third-place matches - where bonus points were given based on the basis of the win - kept Celina close. Landin Wallace pinned St. Marys' Michael Crites in 1:53 at 106 pounds. Derrick Slater pinned Defiance's Gavino Martinez in 2:59 at 113.
Nathan Wilson continued the Celina third-place run with a pin of Wapak's Daniel Prieto at 132 pounds. Ethan Ly held off Wapakoneta's Jacob Schlesselman 7-5 to take third at 152. Tim Novitzke went to overtime to beat Defiance's Spencer Thompson 5-3. Cayden Thomson wrapped up Celina's placement match winners with a pin of Elida's Tares Russel in 2:27 at 220.
Jakob Poor finished fourth at 145 with a pinfall loss to Elida's Dalton Swickrath.
In all, Celina had a top-four finisher in 10 of the 14 weight classes.
"We wrestled as well as any team in league history, but St. Marys had seven guys in the finals for first and we had three," said Miracle "We had a league champ not wrestling today (defending 182-pound champion Luke Muhlenkamp due to injury). But we came out after a great week of practice and did what we had to do. We flipped three matches that we lost on Tuesday (in the dual match)."
In addition to Crites, Braden Saeler lost in the 285 consolation bout via pinfall to Cale Rostorfer
"We knew those place points were catching up to us," said Gruber. "We didn't know if we could hold it up or not."
The teams have a break before the postseason gets underway with the sectional tournament. Both Celina and St. Marys will travel to Defiance for the Division II sectional starting Feb. 28.