Saturday, February 27th, 2021
Boston newest assistance dog to be
Area program trains, donates dogs free of charge
By Leslie Gartrell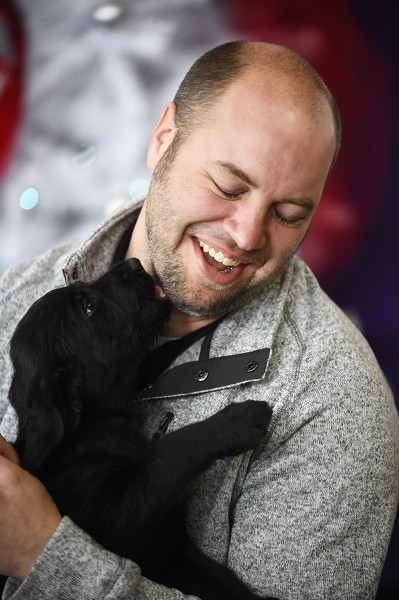 ST. MARYS - Erin Chrisman parked outside K9to5 Doggie Daycare on Friday morning, ushering her toddler out of the car while she unloaded a baby car seat with one of her youngest inside.
She retrieved a round, black ball of fluff from the back seat, masterfully balancing her kids while carrying the furry pup to the front door.
Inside, Chad Sapp was waiting patiently while K9to5 owner Sandy Gerdeman paced around the lobby in anticipation. Her eyes lit up as soon as she saw Chrisman park outside.
"She's here!" she said, excitedly.
As Chrisman walked in, those inside let out a collective gasp. In her arms was Boston, a sleepy, 8-week-old black Labradoodle, still damp from his bath that morning.
Boston is one of the newest recruits of the Anything is Pawsable program conceived and spearheaded by Gerdeman. The program trains dogs, starting as puppies, to be assistance dogs. The dogs are then donated to recipients in surrounding communities, free of charge.
Six pups have gone through the program so far, and four have been placed into loving homes. The dogs have assisted families with foster children and helped people with disabilities, PTSD, anxiety and physical limitations. Some also have been trained to be therapy or emotional-support animals for hospitals, schools and nursing homes.
The program got its start only a few months before the COVID-19 pandemic began. It combines everything Gerdeman loves - animals, families and helping others.
People who are considering a service animal usually are faced with several barriers. Getting a service dog can be difficult, and the base cost can be astronomical. Depending on the training the dog receives, a service animal can cost from $10,000 to $30,000 and even top $50,000, Gerdeman said. Depending on the type of training, it can take two years to train a dog to be a service animal, and many people can't wait that long.
But pups in the Anything is Pawsable program train anywhere from four to six months, although pooches learning to be service animals for people with physical limitations or disabilities may train longer.
The dogs attend puppy kindergarten, basic obedience and pre-Canine Good Citizen classes. Canine Good Citizen certification, or CGC, is a prerequisite for many therapy dog certifications.
The pups also spend time at employees' houses to be house trained and learn good house behavior. Once they complete their classes, the dogs are trained to tend to the needs of their new owner.
Anything is Pawsable trainees can aid in daily tasks, relieve stress and anxiety, comfort their owner, assist individuals with disabilities and improve the handler's quality of life, Gerdeman says.
Sapp will be Boston's owner in about 4 months, once the puppy finishes his training. Sapp is the director of the Mercer County Educational Service Center's Community Learning Center and ROSE Academy.
The director said ROSE Academy students come from varying backgrounds. Many struggle with anxiety, depression or have a learning disability.
Sapp said he's considered the idea of getting a service dog for a few years, but started considering the possibility seriously in November after reading about the program in the newspaper.
Sapp said he reached out to Gerdeman a day or two after reading the Nov. 30 article, and the pair immediately got to work.
Not long after, a K9to5 employee noticed a post from Chrisman on Facebook advertising puppies for sale. Chrisman, Montezuma, said her two dogs, a Labrador and a goldendoodle, both accidentally got pregnant at the same time. She ended up with 23 puppies.
When Gerdeman reached out to see if she would be interested in donating a puppy to the program, Chrisman said she immediately agreed.
"It's a great program, and when Sandy got a hold of me I couldn't say no," she said.
Shortly before Chrisman's arrival on Friday, Gerdeman pulled Sapp aside.
"I really want you to be the first person to touch the dog," she explained. "I want you to hold him so you have the ability to connect."
Chrisman gingerly handed Boston to Sapp, and the puppy immediately nestled in Sapp's arms, calm and content. The big-eared and bigger-pawed pup was right at home in Sapp's presence, cuddling up and giving him a few licks here and there for good measure.
Gerdeman was beyond thrilled with the result. A doting dog mother herself, she was delighted with Boston's temperament and demeanor. The pup wasn't bothered by people, cameras or other dogs in the room, although he slinked up to Sapp for comfort when he heard other dogs barking.
Sapp said he asked for students' input on what kind of services Boston could provide. Students said they would like to have some general caretaking responsibilities such as taking him for walks or playing with him.
They also indicated his presence in the classroom would be welcome, as some students find themselves overwhelmed or frustrated when performing academic tasks.
Sapp said he's excited to have Boston at home and in the classroom. His daughters, ages 4 and 7, are excited too. While Boston completes his training, Sapp will get to visit and bring him home during weekends and potentially let the puppy visit with students as well.
"It's exciting," he said. "We're obviously super grateful for this opportunity."
As the rest of the attendees fawned over Boston, Gerdeman expressed her thanks to Chrisman for her donation.
"I'm overwhelmed, I'm just completely overwhelmed," she said. "Just overwhelmed at her kindness, at the thought of being able to help. (Sapp) is going to make a difference in every one of their lives, not just him and his family, but every one of those kids' lives."
So far, Gerdeman has been able to run the program mostly through donations such as Chrisman's. Gerdeman said she plans to maintain the program with a new litter of puppies through Poppi, an Australian shepherd, and standard poodles Johnny Ray and June Carter.
While having their own litter will ease the burden of buying puppies or hoping for donations, Gerdeman said K9to5 Doggy Daycare is accepting donations to aid in vetting, caring for and training puppies.
For more information, visit K9to5 Doggy Daycare's website at https://k9to5doggydaycare.com, on Facebook at K9to5 Doggy Daycare, LLC or call 419-300-K925.