Saturday, February 27th, 2021
Division II Girls State Bowling Championships
High-Five
Coldwater captures fifth state title
By Gary R. Rasberry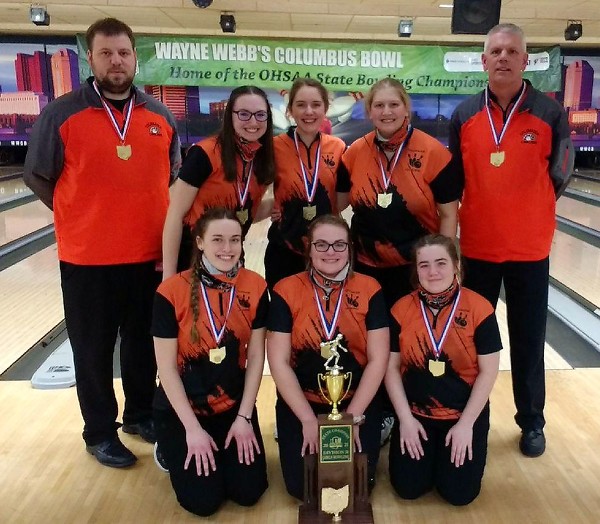 There was no stopping the Coldwater girls bowling team this year.
A season after finishing state runner-up, the Cavaliers dominated the 2021 Division II state tournament, posting the highest score in qualifying and then having little trouble in the head-to-head matchups to capture the program's fifth state championship at Wayne Webb's Columbus Bowl in Columbus.
"It was awesome," Coldwater coach Rick Hartings said via telephone. "Very proud of the girls."
Coldwater opened Friday with a score of 2,932 through the first round of three regulation games. In the next round of three baker games, the Cavaliers did enough to stay in front and finished with a final tally of 3,470 to take the top seed in the eight-team championship bracket by over 100 pins over Napoleon, which defeated Coldwater the week before in the district tournament.
Senior Alison Fox came up big in qualifying, bowling a 665 series to finish as state runner-up in the individual competition, earning first team All-Ohio honors. Jasmine Schulze finished 10th with a 595 series to earn second team honors while Ryleigh Brown bowled a 584 for 11th and an honorable mention. Julie Bertke added a 552 series (22nd overall) with Lily Schoenherr adding a 536 for 25th.
"Our qualifying couldn't have gone better," said Hartings. "We bowled so well and consistent. Everybody bowled well. Alison had a big series, probably the best day of her career today, but everybody was consistent across the board. I was kind of shocked."
The Cavaliers faced Worthington Christian in the quarterfinals and dominated with a 221-128, 192-160, 161-156 series to sweep the best-of-five baker game format 3-0.
Against Hubbard in the semifinals, the only hiccup came as Hubbard took game one 169-146, but the Cavaliers stormed back to life, winning the next three games 172-156, 214-158 and 165-164 to advance to face Greenon in the title game.
"We really turned it on," said Hartings. "The first match was easy, but we knew it wasn't going to get easier."
In game one, the teams were tied 180-180 after regulation, with the tiebreaker a roll-off using a ninth and 10th-frame format. Coldwater won 36-18 to take the opener and then cranked it back into high gear by winning the second game 192-146 before taking the third game 202-145. As soon as Fox threw the last ball of the game safely down the alley, the celebration began.
"Alison had two runners-up (as a freshman and junior) and we missed state (Fox's sophomore year)," said Hartings. "We were determined. We were like 'Let's finish this off.' "
Fort Recovery junior Abigail Lauber finished 30th in the individual competition in bowling a 519 series.
The boys state tournament, featuring the Coldwater boys team and Minster bowler Chandler Hoskins, was set to begin this morning.