Tuesday, October 19th, 2021
Emphatic Win
Parkway dispatches Spencerville
By Tom Haines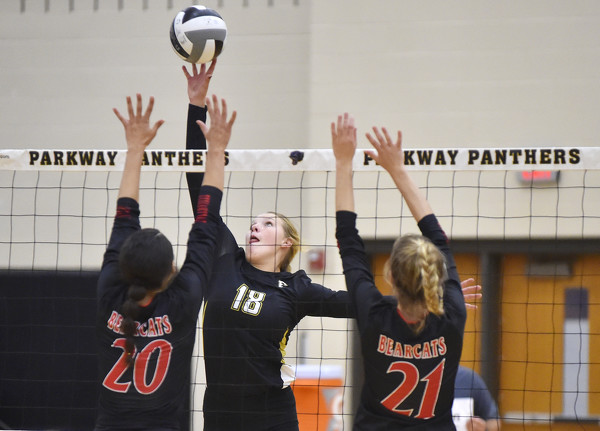 ROCKFORD - Other than a 10-2 Spencerville run in the second set, the Parkway volleyball team controlled its tournament opener all the way.
The Panthers came out fast and blasted the Bearcats in the third set to finish off the 25-15, 25-20, 25-6 sweep in the Division III sectional opener at Panther Gymnasium on Monday.
"I think in that second game, our energy really dropped," Parkway coach Jordan Henkle said. "Just making some errors, undisciplined for a bit. But they tightened up when they needed to and responded well in the third set, controlling the ball and controlling our side."
With the win, Parkway (16-7) moves on to face Allen East in the sectional final in Coldwater on Wednesday.
Parkway's biggest scare came midway through the second set, after service runs by Paige Stephenson, Emiree Knittle and Gabrielle Stober had stoked the Panthers on a 12-2 run for a 14-4 lead. The two teams traded points before Lydia Falke notched an ace to kick off a short service run and cut the lead to six.
After Parkway went up 20-12, Claire Hoback served up five points as the Bearcats cut the lead to 20-17 and forced Henkle to call timeout.
"Just telling them to stay focused, stay consistent, control what we can control," Henkle said. "And then serve receive needed to be more consistent so we could stay aggressive with hitting."
Hoback's final serve went long and the Bearcats made a pair of errors to push the lead to 23-17, followed by an apparent block by Isabelle Murray that was reversed after the referees conferenced to set up set point. A kill by Samara Norbeck and a block by Kirsten Voice helped the Bearcats make one last rally before Macy Johnson fired a shot off the Spencerville block to end it.
The drama followed a comfortable win in the first set, as Parkway jumped out to a 5-1 lead and never allowed Spencerville to get closer than two. A four-point service run by Gracyn Temple gave the Panthers a 14-8 lead and Johnson added a four-point run to stretch the margin to 10.
The two teams traded points down the stretch, with Spencerville never getting closer than nine until Johnson bounced a shot off the top of the net to close it out.
"I thought when we handled the ball tonight, we did some good things," Henkle said. "Just had to stay focused, stay disciplined, because they weren't doing a whole lot over there to make us stay engaged. We had to stay engaged ourselves."
Coming off the closer-than-expected second set, the Panthers clapped back authoritatively at the start of the third, scoring the first eight points of the set behind Stephenson's serve and taking a 13-3 lead on a kill by Faith Jacobs. Stober, who was more or less unchallenged at the net, spiked errant serve receives and passes that strayed over the middle to rack up easy points for the Panthers.
Norbeck got a kill for the Bearcats to make it 20-6 before Maddie Jacobs served up the final six points, with Stephenson blocking a shot to seal the win.
"Every time we play from here on out is just going to keep getting better," Henkle said. "We've got to come in ready every day to raise our level to that. We can't just walk in and expect to win or hope it's going to happen, we've got to earn it."
Stober racked up 16 kills for the Panthers, with Stephenson adding 23 assists and Temple recording six digs.