Wednesday, October 20th, 2021
The secret to living a century
Emilie Karafit left Czechoslovakia at 7 to come to America - alone
By Erin Gardner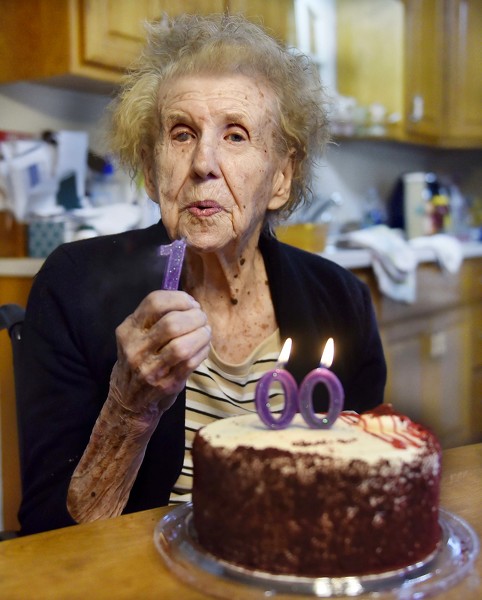 CELINA - Emilie Karafit said the secret to a long life is living naturally - eating home-grown fruits and vegetables and drinking cow's milk. She should know, too, considering she turns 100 Sunday.
"They used to do it all, here. Mom used to milk cows and she had a big garden," Jim Karafit, her son, said. "Those two (Jim's grandma and mom) were always cooking and working in the garden. I would come in and there would be big bowls of peas," he remembered fondly with tears in his eyes.
Karafit remembered how as a child she came from central Europe to the United States in the late 1920s, part of the large melting pot of immigrants journeying to America.
Emilie Karafit was born Oct. 24, 1921, in Czechoslovakia. When she was born, she was automatically an American citizen because her father already was one, she said. When she was 7, she came by herself to the United States by way of Ellis Island in New York. She then traveled by train with a Red Cross nurse from Buffalo, New York, to unite with her family in Defiance.
Emilie said her mother and father came to America first when she was just an infant. It took them seven years of working and saving enough money before they could send for her, she said. While they were in the states and before Emilie arrived in America, they had two more children.
"She was 7 years old and never met her parents," Jim Karafit said. "She was an infant raised by her grandmother in Czechoslovakia. Then when she came to the United States, she had a mom, a dad, a brother and a sister. She had never met any of them. Can you imagine … raising a child until they're seven (and) putting them on a ship by yourself? There were a lot of sacrifices made."
Jim Karafit said when his mother came to America, she didn't speak English.
She said her sister helped her learn by speaking it at home and at school. She went to high school in Jewell, a town near Defiance, but didn't finish. After high school, she met her husband, Stephen, and they were married in 1942. Soon after, they moved to Mercer County because he had a widowed mother with a 160-acre farm. During World War II, he received a draft deferment to take over the farm.
"Back then, they needed farmers really bad. If you were a farmer, you got a deferment because they needed all the farmers to farm to feed the soldiers," Jim Karafit said.
Emilie Karafit's husband, Stephen, was born in the United States, but interestingly, his brother and sister were born in Czechoslovakia. Emilie and Stephen Karafit spoke Czech and cooked Czech food frequently. Stephen died in 1984 before they could visit Czechoslovakia together, Emilie Karafit said. Together the couple had six children Rose, Elizabeth, John (dec.), Carol, Jim and Jane.
Emilie Karafit still lives on the farm they moved to on State Route 219 near Montezuma. Jim Karafit and his son, Joe, farm it in their spare time.
"It's like a small business. We raise soybeans, we raise corn, we raise a little bit of beef, we got some hogs," Jim Karafit said. "My son and I don't farm for a living. My son is a schoolteacher, he teaches at Upper Valley Career Center in Piqua and I work full time for the county."
Emilie Karafit said she worked at Goodyear for two winters and was laid off during the summers.
"My husband didn't like me working, so I came home and he went to work, (in her place)" she said.
In the summer, Stephen Karafit farmed and then in the winter, worked for Spiker Brothers. During the Great Depression, farming was difficult, so he worked full-time at Pax Steel for 10 years.
Emilie Karafit also commented on social standards. She worked in the home and also could drive, she said, noting that many women then didn't drive.
Looking back, she said she wouldn't change a thing about her life.
"I think I would do the same thing that I did," she said.