Wednesday, October 20th, 2021
Moving On
Fort Recovery beats St. John's in tournament opener
By Tom Haines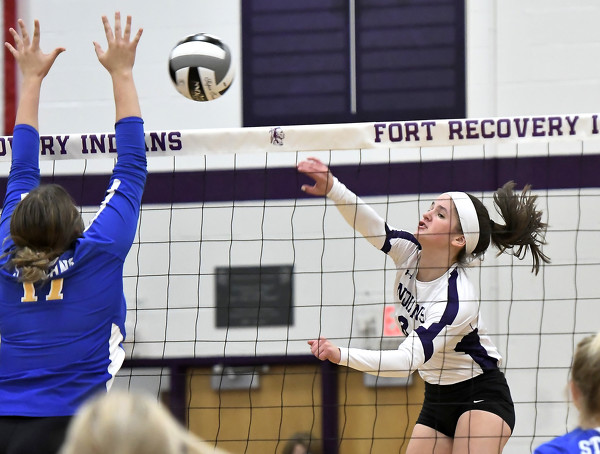 FORT RECOVERY - The Fort Recovery volleyball team trailed for a total of five points as it cruised to a 25-5, 25-12, 25-21 victory over Delphos St. John's in the Division IV tournament opener on Tuesday.
The Indians fell behind early in the second set and had to fend off a Blue Jays charge against their subs in the third, but otherwise controlled the match from wire to wire.
"We came out pretty aggressive, fought hard overall," Fort Recovery coach Travis Guggenbiller said. "I thought we served aggressively, we hit really well. I thought the hitting-setting connection looked pretty good. My middles worked really hard today, my outsides, my right sides."
With the win, Fort Recovery moves on to face Crestview at Lincolnview on Thursday.
After dominating the first set, Fort Recovery (12-11) gave up the first two points in the second set before Whitley Rammel got a kill down the left line to get the Indians on the board. Faith Wendel's serve went right to give St. John's (1-21) a 3-1 lead, which proved to be its largest of the match.
Teigen Fortkamp fired a shot that bounced right off the Blue Jays' block to cut the lead to one before St. John's was whistled for a double-hit, handing the serve to Fort Recovery's Audra Bubp, who rattled off a six-point service run as the Indians went up 7-3.
But St. John's responded with a 5-2 run to cut the lead to 9-8, including an ace by Chloe Wellman that forced Guggenbiller to call timeout.
"We came out really strong in that first set, and sometimes you maybe lose that focus a little bit," Guggenbiller said. "In the second set, you think it's going to be that easy, but it's not. I think they have to remember that for them to get what they had in the first set, they had to work hard to get that."
Marissa Gaerke, Grace Guggenbiller and Lilie Leuthold combined for a 14-2 run, with Leuthold serving up the last seven points to make it 23-10 before a serve into the net gave the Blue Jays a last gasp. Fortkamp got a kill to get the Indians to set point, Mia Conley gave St. John's another reprieve with a kill on the left side, and Whitley Rammel finished off the win with a spike down the right line. Halle Elwer dove for the ball and could only punch it into the stands.
The end of the second was more akin to the dominant form Fort Recovery showed in the first, when St. John's fell behind 6-0 and never got closer than five the rest of the way. The Blue Jays couldn't even string together a two-point service run in the first set, with the Indians responding to every dropped point right away.
Fort Recovery benefited from three aces and a slew of St. John's receiving errors in that first set. Gaerke closed the set on a six-point run featuring an ace on a short serve and two receiving errors.
"We practice serving every day for about half an hour," coach Guggenbiller said. "It's nonstop serving, serving, serving, serving. Getting in rhythm, getting that power, getting that routine."
In the third, the Blue Jays hung around but never managed to take the lead. With the Indians up 15-11, coach Guggenbiller started sending in his subs as the lead stretched to 21-13.
But a pair of receiving errors and a pair of hitting errors whittled the margin to 21-17 and brought the starters back onto the court to close it out. St. John's got as close as 23-21 after a shot by Elwer was blocked out of bounds, but Rammel got a kill down the left line to set up set point, and on Leuthold's next serve, the Blue Jays hit the ball into the net off the serve receive to end the match.
Rammel finished with 16 kills, while Leuthold and Gaerke combined for six of the Indians' 11 aces. Fortkamp and Wendel each accounted for 12 assists.
Fort Recovery faces a stiffer challenge Thursday, as Crestview enters 16-6.
"They're definitely middle-strong, so we're going to work on our block, work on being aggressive with our serves to keep them out of system more often," coach Guggenbiller said. "Then work on our defense. We have to do a better job covering on the right side of the court, so that's an area we're going to practice."