Tuesday, October 26th, 2021
Abortion ordinance voted down
Proposal advances to second reading
By William Kincaid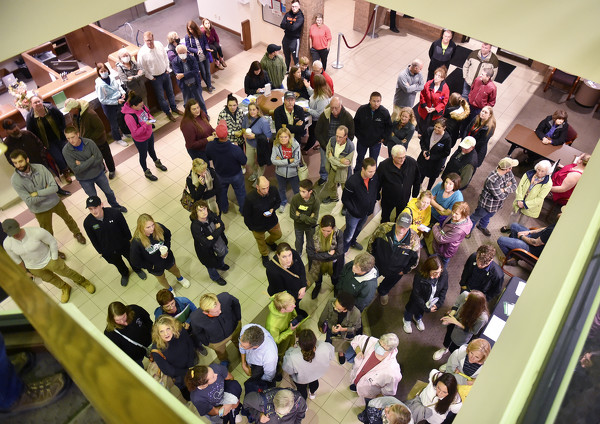 CELINA - City council on Monday night voted 4-2 against legislation that would make Celina a sanctuary for the unborn and effectively outlaw abortion in the city.
However, the proposed ordinance still advances to a second reading at 7 p.m. Nov. 8, council president Jason King said after the vote.
After close to two hours of debate among council members and audience input, councilman Myron Buxton made a motion to the table the legislation. Buxton and councilman June Scott voted in favor of the motion while councilors Eric Baltzell, Eric Clausen, Mark Fleck and Eric Lochtefeld all voted "no."
Councilman Mike Sovinski did not attend the meeting.
Immediately afterward, Clausen made a motion to move the legislation to second reading. Clausen and Baltzell both voted "yes" while Scott, Fleck, Lochtefeld and Buxton voted "no."
"It goes to second reading regardless but right now the standing of it would be 2 to 4," King said.
Attendees flooded the first floor of the city administration building on Monday night. Due to limited spaced, city officials ushered into council chambers those who wished to speak. Approximately 30 people were let in at first. After they spoke, many left and 20 more people were permitted into chambers to voice their opinions.
A majority of the speakers, among them pastors, a retired teacher and avowed anti-abortion advocates, from Celina and nearby villages in the county, expressed support for the legislation, pleading with council to take steps to protect the unborn, even if their action would invite lawsuits and other scrutiny from the outside the city.
Objectors totaled a few short of 20 attendees and included a handful of representatives of abortion-rights organizations from near Columbus and Cleveland. They argued that the legislation at hand is unconstitutional and would hinder a woman's right to private health care. Moreover, some insisted the legislation would lead to boycotts that would hurt Celina's small businesses.
Some councilors sparred with one another about how the legislation would prevent abortions as residents can drive to abortion clinics outside of Celina.
"All we're trying to do here is discourage it happening here," Clausen said, noting a person may think twice about having an abortion as they drive to another town to have one. "And why did the laws come about for drunk driving? Because somebody was killed. Then the laws started coming to protect the innocent and that's all we're talking about here is protecting the innocent."
King and Scott tangled over the legality of abortion, with Scott claiming the practice "is a federal law. Roe v. Wade. Whether you like it or not."
"It is not," King said.
"It is an interpretation of the Constitution," Scott fired back. "Everyone at this table, when you were sworn in, you swore to follow the Constitution of the United States."
King argued abortion is not law.
"It is not law because it did not go through the law making branch. If it was law, then why would the current Congress be trying to codify it as law?" he asked. "The Supreme Court cannot make law according to any civics class, social studies class, government class we've ever taken."
Speaking to liability councilors and city government would have if the legislation is enacted, Lochtefeld referenced an email exchange he had with law director George Moore.
"I was told by the legal department for our insurer that there is no coverage for any city officials voting for legislation that is illegal at the time it is passed," Moore read from his email to Lochtefeld. "The problem is they cannot say if any such proposed legislation was illegal at the time it was passed until it is legally challenged and their legal department can then look into it."
Moore said he believes there is a very real possibility that there would be no coverage.
"But I also believe that anybody voting for it may experience personal exposure/liability," Moore continued reading. "And thus recommend against it's passage."
More also pointed to an email correspondence he had with Garry Hunter, executive director/general counsel of Ohio Municipal Attorneys Association, about the prospect of council banning abortion clinics in Celina. The city of Lebanon took similar action earlier this year, he said.
Hunter in the email, which Moore read aloud, wrote that in his opinion, "the legislation is unenforceable and could result in lawsuits against the city that would be expensive to defend. If you are sued and lose, a bad precedent could be set at least in Ohio and maybe the Federal 6th circuit."
Moore, who pointed out he's anti-abortion, said he believes the issue of abortion needs to be addressed at the federal level, not by local government.
The next regular council meeting is 7 p.m. Nov. 8 in council chambers on the second floor of the city administration building.