Friday, September 30th, 2022
2 killed in car-semi accident
By Erin Gardner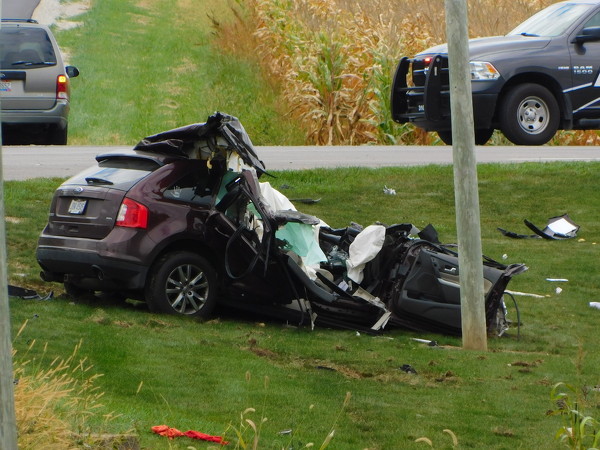 Photo by Bob Tomaszewski/The Daily Standard
GIBSON TOWNSHIP - A California man was charged with two counts of vehicular manslaughter after he reportedly ran a stop sign at the intersection of State Route 49 and Fox Road on Thursday afternoon, killing two people.
Anil (no last name provided), 25, Fresno, California, is being held at the Mercer County Jail on a $250,000 bond.
Karen E. Bucklew, 42, Greenville, and her passenger, Tommy J. Yaqub, 24, were pronounced dead at the scene of the accident.

According to a news release from Mercer County Sheriff's Office, central dispatch received a 911 call at 1:35 p.m. of a crash at the intersection of Fox Road and State Route 49.
Anil was reportedly operating a 2022 Freightliner tractor-trailer owned by Mithu Transport Inc. eastbound on Fox Road. Bucklew was operating a 2012 Ford Edge northbound on State Route 49, per the release.
Anil allegedly failed to stop at the stop sign at the intersection of Fox Road and State Route 49, striking Bucklew. Anil was uninjured.
Sheriff's deputies investigated the crash and consulted with the Mercer County Prosecutor's Office, according to the release. Mithu Transport Inc. did not return a message for comment by press time.
The sheriff's office crash reconstruction team was called to the scene for the investigation.
Also assisting at the scene were members of the Southwest Mercer Fire Department, Fort Recovery and St. Henry police departments, St. Henry EMS, Mercer County Emergency Response Volunteers and a commercial motor vehicle inspector.