Friday, September 30th, 2022
Redskins earn sweep of Indians
By Tom Haines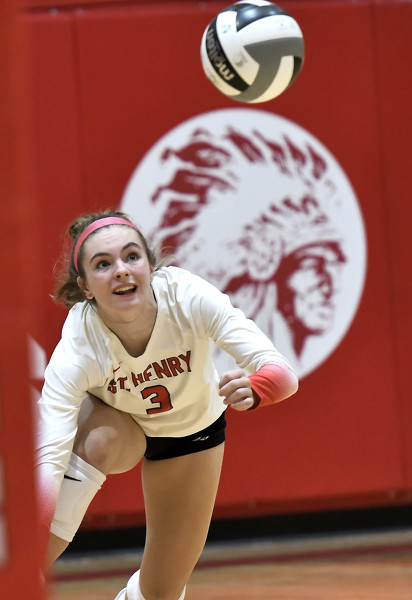 Photo by Nick Wenning/The Daily Standard
ST. HENRY - Fort Recovery took a small lead to start the first set, but from then on, it was St. Henry all the way.
The Redskins rolled in the first and third sets and pulled away late in the second for a 25-16, 25-18, 25-12 win in a Midwest Athletic Conference volleyball match at Redskin Gymnasium on Thursday.
"We prevented them from going on any runs and made good contact, eliminated a lot of our errors hitting-wise," St. Henry coach Tricia Rosenbeck said. "I thought we really took it to them and played a great match."
St. Henry (10-4, 3-3 MAC) pulled ahead 5-4 in the first set on an Indians hitting error and never trailed again, starting with a three-point service run by Lydia Werling. Lauren Beyke added a four-point run, including an ace, to extend the lead to six at 12-6, and Fort Recovery (4-10, 1-5 MAC) didn't manage another service point until the Redskins led by 10.

Audra Bubp served up three points as the Indians cut the margin late in the set. After her last serve went long to give the Redskins set point, Grace Klingshirn got a kill to stave off defeat before Ellie Fullenkamp spiked a kill off a Fort Recovery defender to end the set.
"Our plan to attack is always to serve aggressive," Rosenbeck said. "Continue that aggressive serve, keep them out of system, because they have a great team and when they were in system, they were putting some balls away. I thought our servers did a great job of seeing the zones and hitting that zone, getting them out of system."
St. Henry picked up right where it left off in the second set, with a four-point service run by Chloe Gels and a seven-point run by Fullenkamp staking the Redskins to an 11-2 lead before Fort Recovery rallied. Allysen Fullenkamp recorded two kills and a block and Teigen Fortkamp added two kills, including a shot to the back left that cut the lead to 14-11.
Gels answered with a kill and the teams traded the next eight points before Mia Niekamp's shot was deflected out of bounds off the blockers to stretch St. Henry's lead to five at 20-15. Fort Recovery got back within three at 21-18 on a double-hit by the Redskins, but Gels answered with a big spike off the serve receive and Lauren Beyke served up the final three points, with Molly Wendel blocking a shot by Fortkamp for set point and an off-balance shot sailing over the end line to close out the set.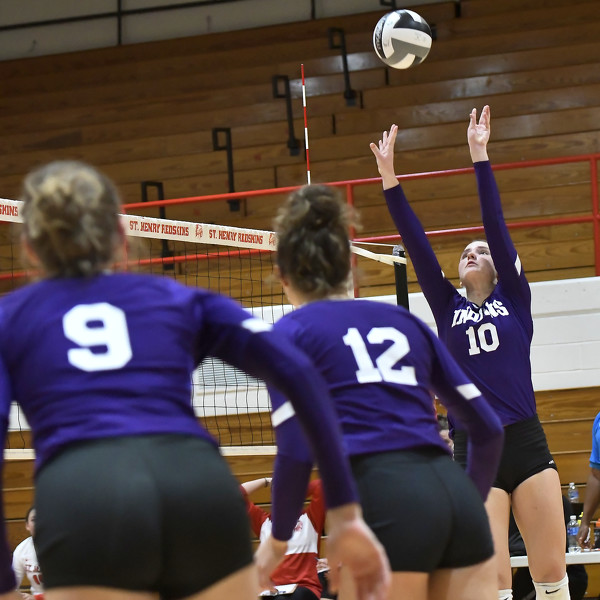 Photo by Nick Wenning/The Daily Standard
"The score, I thought, didn't do justice to how we played," Fort Recovery coach Travis Guggenbiller said. "I thought we serve received well, had some good defense today. We did better not hitting the ball in the net or out of bounds, which we've done in the past, but we hit a lot in the block. The block made a big difference."
Another service run by Fullenkamp put St. Henry ahead 6-1 in the third set, and as in the first set, the Redskins steadily pulled away from there. Beyke added a four-point service run to make it 15-6, and the Indians got no closer than six the rest of the way.
Niekamp gave St. Henry match point with a kill off the block and Fort Recovery's final serve receive ricocheted off the ceiling and fell to the floor to give the Redskins the win.
"We're getting there, slowly," Guggenbiller said. "But we're getting toward the end of the season - only eight games left after tomorrow, after Saturday we got five left. So we have to start making those changes now."
Niekamp finished with 17 kills and two blocks, while Werling added 32 assists and Lauren Thieman recorded eight digs. Ellie Fullenkamp turned in six kills and three aces.
Mara Pearson led the Indians with eight kills and a block. Fortkamp notched three aces.
St. Henry and Fort Recovery head north on Saturday for the Crestview Invitational.