Saturday, February 4th, 2023
Flyers race past Cavs
Marion clinches share of MAC crown with big win over Coldwater
By Tom Haines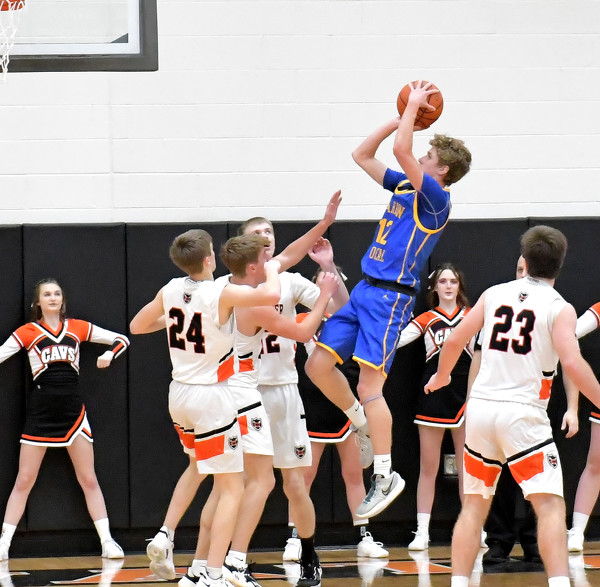 Photo by Nick Wenning/The Daily Standard
COLDWATER - What looked to be a clash of two of the best teams in the Midwest Athletic Conference turned into a Marion Local coronation.
The Flyers jumped out to a 14-point lead and never let up in a 56-44 boys basketball victory over Coldwater at the Palace on Friday, and with Delphos St. John's loss to St. Henry, Marion clinched at least a share of the MAC title for the second straight year.
"We really wanted to come out and play well early, and I thought we did that," Marion coach Kurt Goettemoeller said. "Our two bench kids, Mitchell (Ranly) and Luke (Pohlman), they came in and scored early for us. We were making shots, and any time you make shots early, that helps."
Marion (15-3, 7-0 MAC) won its fifth straight game and can nab an outright title if it wins one of its final two MAC games, against Versailles next Friday or the Blue Jays the week after. Coldwater (9-9, 5-2 MAC) dropped its fourth straight and would need the Flyers to lose out to get back in the MAC title race.

"Just don't think we came out and played with enough energy and enough focus, and that's kind of been our nemesis for us the last week or so," Coldwater coach Nick Fisher said. "With everything that's at stake with the MAC, with the tournament draw this weekend, just disappointed we didn't play harder from the get-go."
Jadyn Mescher swished a three from the left elbow to start things off, and after Evan Harlamert cut the deficit to one with a layup, Austin Niekamp put back a miss and Tate Hess got a steal and a breakaway layup. Niekamp knocked down a corner three a minute later to make it 10-2.
"I thought Austin Niekamp played with a lot of confidence, especially in the first half," Goettemoeller said. "He had 12 points in the first half, so that was great to see from him. I told him, 'I need you to hit a couple shots tonight,' and he wasn't reticent to pull the trigger."
Marcel Blasingame got a layup in transition for the Cavaliers, but then Marion ran off a 9-0 run, starting with Ranly's trey. Jack Knapke and Pohlman added buckets and Ranly hit two from the charity stripe before Justin Kaup made a free throw to stop the run.
At the first break, the Flyers were shooting 7-of-12 from the field and the Cavaliers were shooting 2-of-12, and Marion had 11 rebounds to Coldwater's four.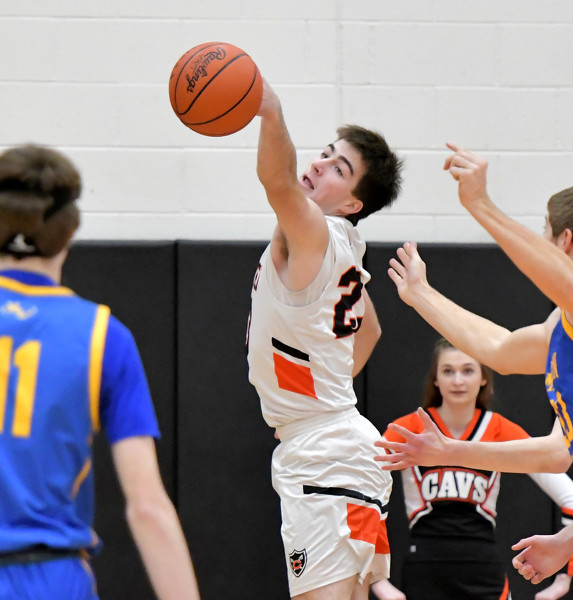 Photo by Nick Wenning/The Daily Standard
"With their defense and with their length, some of those shots - I don't think they were too quick or too early shots, just shots we needed to go down," Fisher said. "I was more disappointed in our effort on the offensive end on the boards. The way those shots were bouncing around, there's opportunities to go get a rebound offensively and we didn't do that."
Blasingame drove for a layup to open the second quarter and Kaup drained a trey from the top of the key to bring the Cavaliers within nine with 6:12 left in the half, but that was as close as they got the rest of the way. Brandon Eyink answered with a layup, Niekamp scored five more points, and the Flyers took a 16-point lead into halftime.
Coldwater got back-to-back buckets from Mason Welsch to make it 37-25 with 1:44 left in the third, but Ranly answered with a free throw and a wide-open kickout three to pad the margin again.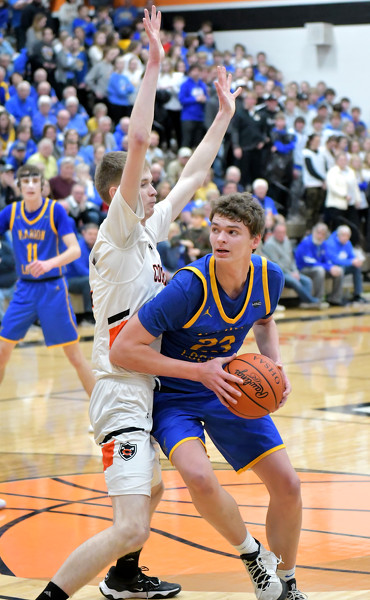 Photo by Nick Wenning/The Daily Standard
Curtis Duerr sank a contested three in the first minute of the fourth to bring the Cavaliers within 13, but Niekamp and Hess got driving layups as Marion pulled away again. Hess hit two free throws with three minutes left to extend the lead to 20 before both teams started to roll in subs and the Cavaliers made the final margin more respectable.

"In the second half, we went more to space the floor a little bit and try to beat them off the dribble," Goettemoeller said. "Tate Hess got in there a couple times off the dribble and made some things happen."
Niekamp finished with a game-high 14 points and Ranly and Hess added 11 apiece. Harlamert paced Coldwater with nine.
Both teams return to action tonight, as Marion returns home to take on Spencerville in a rematch of last year's district final and Coldwater hosts Fort Loramie.