Wednesday, January 23rd, 2013
On the job experience
New grant will allow Lake Campus students to train with local companies
By Eric Adams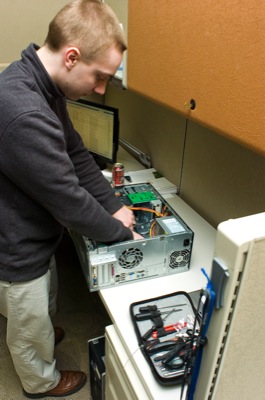 State officials want young Ohioans to find jobs in the Buckeye state and they are awarding money to meet that goal.
The State Controlling Board last week approved a $1.3 million grant to Wright State University and its Lake Campus to help fund student co-ops and internships.
The grant is part of a statewide initiative to combat the "brain drain" phenomena of skilled and educated workers who seek employment outside of Ohio. The state announced in December it would be allocating $11 million to universities.
Julie Miller, director of the Business Enterprise Center at the Lake Campus, said the university applied for the grant in October. Shortly thereafter, campus officials contacted area businesses for commitment letters.
Coldwater Machine, Thieman Stamping & Metal Fabrication of New Bremen and Celina Insurance Group have agreed to offer paid internships, which could begin as early as March. Grant monies will defray a portion of the funds companies allocate, Lake Campus program facilitator Carol Jones said.
"The state is frowning on unpaid internships," Jones said. "Almost all (Lake Campus) students work, and quite a large number pay their own tuition."
An unpaid internship is not feasible for most area students who must work and find time to study, she added.
For Celina Insurance Group, the grant will supplement its existing independent internship program.
Jane Meinerding, vice president of human resources, said the company has an intern program in the information technology department. Three interns assist the 22 full-time employees in that department with calls and work on PCs.
The Group now plans to offer two or three actuarial internships this summer for Lake Campus students studying mathematics.
Miller and Jones found that internship programs in other states vastly increased the number of students who stayed local post-graduation, sometimes doubling the figure. The internships also help create better workplace "fits" because students raised in the Grand Lake area are more prone to support the same work ethic, corporate culture and community involvement that local companies value, Jones said.
"We have so many good jobs not being filled because of students leaving," she added. "If we lose a workforce willing to learn, we will lose those companies."
Internships using the grant funds must fit into at least one of three areas: production, human resources or administration. Jones expects many business-related fields will likely see internships, as well as manufacturing and agricultural.
She anticipates programs like these will "snowball" as companies realize that co-ops are an effective way to keep students local.
"We're just on the verge of utilizing (these resources)," she said. "The state is really wanting this program to continue."
The Lake Campus receives calls nearly every day from companies seeking to establish an internship, Jones said.
More local companies may be able to get some of the grant funds as some Dayton-area companies that committed early may not be using the number of people initially planned, Jones said.
"There will be a waiting list," she said. "By the end of this month, we'll know how much we can serve."
Lake Campus officials did not yet know how much of the grant would go to the local campus. The deadline to use all of the state money is Dec. 31.