Wednesday, January 23rd, 2013
Celina dominates Kenton in dual match
By Gary R. Rasberry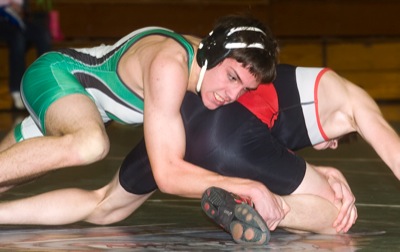 CELINA - To say that Celina's wrestling team got out to a fast start on Tuesday night against Kenton would be an understatement.
A quick pin in the first match helped the Bulldogs' strong start en route to picking up a 49-12 win over Kenton in Western Buckeye League action on Senior Night at Celina High School.
Celina is now 2-5 in WBL dual matches while Kenton drops to 0-6.
Kevin Lockwood got Celina off to a great start by pinning Seth Conover in just 14 seconds in the opening bout at 220 pounds.
Two straight decision wins by Adam Wade (8-3 at 285 pounds) and Jacob Whitaker (13-9 at 106 pounds) helped Celina build a 12-0 advantage. After a double-void at 113 pounds, Kenton broke the skid as Lakota Breece pinned Drew Donovan at 120 pounds to cut Celina's lead in half at 12-6.
Celina won the next two matches with Aaron Crites getting a 15-6 major-decision victory at 126 pounds before Peyton Hamrick pinned Dustin Elder in 1:23 at 132 pounds.
At 138 pounds, Celina's Tyler Dillion wrestled Kenton's Sean Fitzgerald and Dillon was up 2-1 late when he was hit with a stalling penalty, which gave Fitzgerald a point to send the match into overtime. After no score in the 60-second extra session and the first 30-second tiebreaker, Dillion chose down for the second tiebreaker. After a pair of reversals by each wrestler, Dillion reversed again and scored three back points to win the match 10-6.
At 145 pounds, Celina's Alex Schlotterer faced Devin McGrath. After getting taken down early, Schlotterer got the reversal to tie the match at 2-2 after one period. Schlotterer was awarded a point in the second period after a Kenton penalty and in the third period he earned an escape point to win the match 4-2.
"I thought the 138 and 145 were questionable, they could go either way," said Celina's coach Dave Hucke. "Our guys fought to the end on that. They were swing matches and, honestly, tipped it to our favor."
Celina earned a void win at 150 pounds, followed by the Bulldogs' Cory Guingrich pinning Dylan Rothgery at 160 pounds. Kenton scored its final points at 170 pounds as Dylan Castle pinned Kyle Balthis. The Bulldogs responded with a 1-0 win by Curtis Silliman at 182 pounds, and Greg Axe - who with Mikel Martinez are the lone seniors on the Bulldogs' squad - capped off the night with a pin midway through the second period at 195 pounds.
"We started out well. Got a couple quick wins," said Hucke. "We made some adjustments in the lineup, and some of my guys came through in spots that were questionable. Our guys just rose up tonight. I'm just hoping we can finish the season with the little momentum we've got. I was very pleased with the way our guys wrestled. They just performed very well."
In the two junior varsity bouts, Celina's Chris Cowdery won via pin and Ken Kugel won a 6-2 decision.
Celina will take part in the inaugural OHSAA state team tournament tonight. The Bulldogs will face Kenton Ridge at 6 p.m. at Graham High School. The winner will then have the difficult task of facing 12-time state champion Graham in the nightcap.