Wednesday, April 3rd, 2019
Artistry Under the Dome to spotlight local talent
By William Kincaid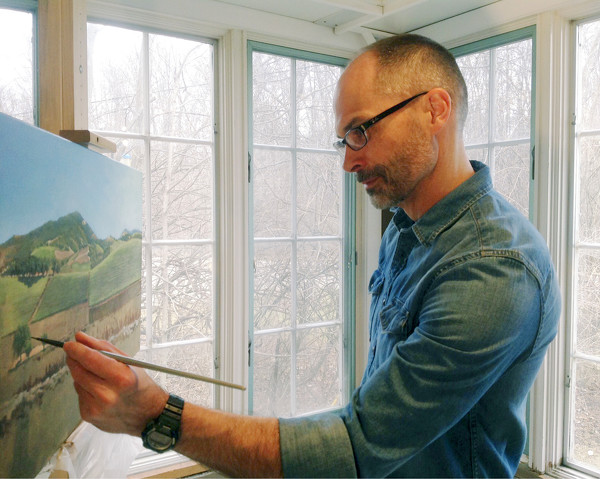 CARTHAGENA - It's that time of year again for one of the area's largest and most diverse displays of artworks at St. Charles Senior Living Community at 2860 U.S. 127.
This weekend marks the seventh edition of Artistry Under the Dome where established and emerging artists and artisans, all with links to the region, rub shoulders with one another. They'll offer windows into their creative processes and examples of their work to appreciate and purchase.
"We're very, very pleased with it," co-organizer Sister Martha Bertke said about the event that has blossomed into a world-class showing of fine art paintings and pieces. "This premier juried art exhibit and sale features 30 artists and includes students' artwork from seven different local high schools."
An opening reception is 7-9 p.m. Friday. The art show and fair is 10 a.m.-5 p.m. Saturday and Sunday. Free-will donations will be accepted to help fund the event.
Types of art that can be seen this weekend are pottery, woodwork, glass art, copper, paintings, ceramics, jewelry, photography and clay, Bertke told the newspaper.
"Over 1,000 people attend the event each year," Bertke said, adding most are from the area, but some travel from Greenville, Dayton and Cincinnati. "They can meet the wonderful artists, enjoy the beautiful artwork and consider purchasing items, which make amazing gifts for birthdays, weddings, anniversaries and even next Christmas."
The three-day event features a cast of returning visionaries - some of whom have had their works displayed in galleries or shows in major cities - and hungry up-and-comers, according to Bertke. The participants either reside in or are originally from Mercer or Auglaize County.
Each year a selection commitee solicits and reviews submissions.
"Every artist has to submit four images of their work," Bertke explained.
Bertke took time to highlight some of the men and women who will be on hand at this weekend's event.
"We have a very young college student. He's originally from Coldwater," Bertke said of Caleb Luthman, a modern abstract painter influenced by nature, pop culture and the media.
Collette Fortin and Berry Davis of Neptune Hot Glass "do tremendously good work," Bertke said.
"They do all these intricate designs inside glass," she said. "They work hard during cold winter months and then they travel spring, summer and early fall (to places like) New York City."
Todd Buschur is a landscape-centered painter.
"He grew up in Rockford and now teaches near Urbana," Bertke said. "He's a real professional. He does (paintings of) big skies."
Other artists set to showcase their work are Hannah Thees, who transforms vintage silverware, sterling silver and gemstones into jewelry; Nick Wenning, a shaper of wheel-thrown porcelain and stoneware pottery; Ray Feltz, who uses a technique called segmented woodturning to sculpt fine wood art; and Ken Maggi, a nature-focused photographer, according to organizers.
Others scheduled to appear are Julie Baltes, Kathleen Bauer, Tony Beckman, Virg and Jane Bertke, John Beyke, Mary Boettger, Sherry Chandler, Brad Cull, Jane Dippold, Doug Fiely, Anna Fisher, Amelia Goff, Holly Gray, Peggy Green, Debby Gregory, Rhonda Hager, David Maywhoor, Joan Muhlenkamp, Margo Sharp, Marilyn Stall, Amber Temple, Shirley Wenning and Jerry Will.
For more information, visit facebook.com/ArtistryUnderTheDome.