Wednesday, April 3rd, 2019
Panthers rally past Knights
By Gary R. Rasberry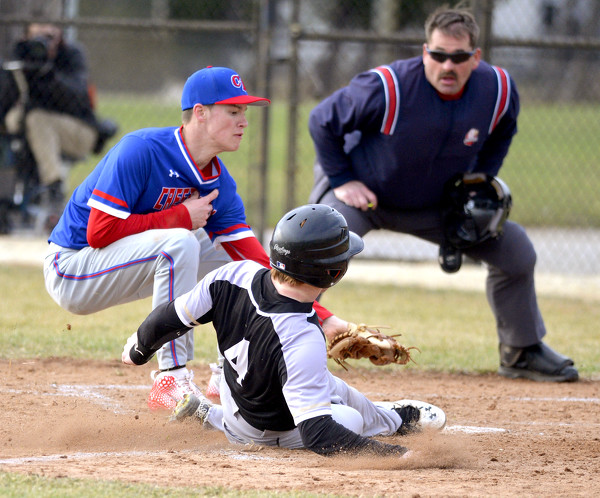 By GARY R. RASBERRY
grasberry@dailystandard.com

ROCKFORD - When the time came to make clutch plays, Parkway was ready.
The Panthers tied the game in bottom of the fifth and after Crestview regained the lead in the top of the sixth, Parkway scored twice in the bottom of the sixth to get a 3-2 win on Tuesday at Don Black Field.
The game was a pitchers' duel from the start. Parkway starter Seth Stuckey scattered two hits and two walks over four innings with five strikeouts. The lone run came in the top of the fifth, when Griffin Painter stole home as part of a double steal with Brant Richardson.
Painter, whose father Jade played for Parkway in the 1990s, also allowed a run in his four innings of work. Colton Kraner led off with a single. Pinch-runner Chaz Neuenschwander moved to second on a Dylan Hughes bunt and then went to third on a Corey Agler groundout before coming home on a wild pitch.
"Stuckey and (Justan) Felver did great and kept us in the ballgame," said Parkway coach Luke Clouse. "Griffin threw incredibly well. We knew he would be tough."
Felver came on to relieve Stuckey in the fifth, got through the fifth unscathed and retired the first two batters of the sixth before hitting Kaden Short with a pitch. Brody Brecht grounded to third, but the throw to first was wild, allowing Short to score.
Kole Small tried to get through the sixth after pitching a scoreless fifth for the Knights. After striking out Felver, Kraner reached on an error. Hughes and Agler followed with bloop singles to load the bases for Breyden Bruns. Small enticed Bruns to pop back to the mound for the second out, but Corey Walls drew a walk to score pinch-runner Cody Gaham. Jack Wehe followed with a grounder that went off of Small and went between third and short, scoring Hughes for the game-winner. Felver then retired the side in order in the top of the seventh.
"We got some big hits in big spots," said Clouse. "We were able to get guys on late, get the bases loaded and (then) get the walk. It's nice seeing things go our way."
Parkway (3-2) opens MAC play on Thursday at Fort Recovery. Crestview evens its record at 1-1.