Tuesday, July 17th, 2012
Pooch pampering an art
By Margie Wuebker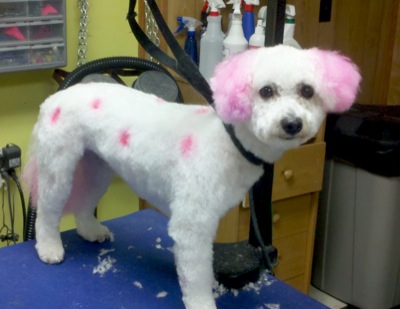 Some wear preppy polo shirts or team jerseys while others favor bling tees or frilly sundresses.
Add some breath freshener and a spritz of designer cologne such as Pucci, Timmy Holedigger, Polo Tyger or Miss Claybone and the pampered pooches of the Grand Lake area are ready to hit the street.
"We're all guilty of pampering our dogs," said Lora Schlueter, a groomer at Garwick's the Pet People near Mendon. "They're more than pets; they are members of the family."
Macy, her Shitzu-Maltese, boasts a complete wardrobe with special garments for occasions like Halloween and Christmas. And she isn't opposed to showing her true allegiance by sporting a Cincinnati Reds jersey or Ohio State Buckeyes hoodie.
Bert Diegel, retail sales manager at Celina Pet Hospital, still sees some clothing sales, but not to the extent she did before the economy took a nosedive.
"People look for ways to cut back when times are tough," she said. "Clothing was the first thing to go."
Owner Shelley Fledderjohann and groomer Lindsey Bidlack at Dogs-R-Us Styling Boutique in St. Marys offer an array of services from follicular scrubs for canines with troublesome skin to colorful dyeing for those who want their pooches to stand out from the pack.
"We get requests during the sports season and as the holidays approach," Bidlack said. "Blue and yellow are popular colors here."
Pastel colors rank high as Easter approaches. The daughter of one pooch's owner requested pale pink ears and tail along with polka dots, and that is what she got, at least for six to eight weeks.
What's good for owners is good for their dogs and that applies to feathers, beads, glitter, manicures and even tattoos. Fledderjohann said canine tattooing does not involve needles, just stencils and color.
The two women regularly attend shows to keep abreast of the latest tricks of the trade.
Artists in some parts of the country create amazing designs through carving and coloring hair - a process that could take up to nine months, they said.
Fledderjohann marveled at the skill and patience of a designer who gave one dog the look of a lion, complete with a magnificent mane.
"If you walked by and saw it in the backyard, you would take off running to call animal control," she said.
Beauty and the Beast, the Harley Davidson insignia and even angel designs are possible, but those ideas aren't popular in this area.
"People are more conservative," said Kim Barney, head groomer at Celina Pet Center. "Things like carving of the hair don't catch on ... right now, there is more interest in clipping dogs to make the heat more bearable."
Pampering does not stop when a beloved pet comes to the end of the trail.
When Schlueter faced the death of beloved pets Kelsey, Cosmo, Gracie and Gimpy, she could not fathom the thought of burying them in the yard. She chose cremation with the ashes placed in decorative urns bearing their names.
"They are in a cabinet at home," she said. "I've already told my husband that some day I want them buried with me."
Veterinarians offer pet cremation and Cisco Funeral Home, with locations in Celina and St. Marys, provides a similar service. Pet cemeteries can provide a final resting place.
"Nothing is too good for beloved pets," Schlueter said. "Once a pampered pet, always a pampered pet ... in life as well as death."