Tuesday, July 17th, 2012
Wapakoneta advances to state tournament
District 4 ACME Tournament Championship Game
By Gary R. Rasberry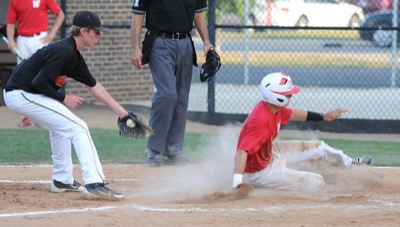 COLDWATER - The Wapakoneta ACME baseball team took control of the game early and never let up while Chase Culver pitched the Redskins to an 8-0 shutout over Coldwater in the District 4 ACME championship game on Monday at Veterans Field in Coldwater.
The Redskins (22-2) advance to the state ACME tournament on Saturday in Bryan, where they will face Western Buckeye League rival and District 1 champ Defiance at noon in the opening game of the tournament. Wapakoneta and Defiance join Shawnee (District 5 champ) to put three Western Buckeye League representatives in the eight-team, double-elimination tournament. Wapakoneta's best finish came in 1968 when the Redskins were state runners-up.
The Cavaliers, who were looking for their first state tourney berth since 2009, complete a successful summer at 23-7.
"It's been 15 years, and we're finally there," said Wapak's coach Willie Sammetinger, noting it's his first state appearance in his 15 years as ACME coach. "We were one run away from it last year (when Minster went to state). This year we finally broke the door down."
"We got beat by a team that's going to be a pretty good District 4 representative in the state tournament in Bryan, that's for sure," said Coldwater's coach Tom Brunswick.
The door came crashing in for the Cavaliers in the bottom of the first inning. Wapak's Alex Koch and Andrew Hines drew walks off Cavs' starting pitcher Christian Schramm before an infield single by Brandon Schreiber loaded the bases. Brandon Miller then ripped a double down the right-field line to put the Redskins on top 3-0. Chandler Kaeck then brought Miller home with an RBI double as Wapak charged in front 4-0.
Brunswick then called for Matt Selhorst to pitch and get out of the jam, which he promptly did thanks to a pop out and a double play to end the inning.
Coldwater did manage seven hits off Culver but the Cavaliers stranded 10 runners on base during the game, including seven in scoring position.
"We had some opportunities," said Brunswick. "(Wapak) got a key hit early and we fell behind. That took us out of our running game and we had to play catchup. If we could have had a key hit to get back into the game, that would have made a difference."
The Redskins' offense scored three runs in the third inning against Selhorst via RBI doubles from Kaeck and Culver to go along with an RBI sacrifice fly from Keaton Zweibel. Wapak then added another run in the fourth after a wild pitch from Cavaliers' third pitcher Derek Thobe.
The best chance for Coldwater to avoid the shutout came in the seventh when Brody Hoying reached on a one-out infield single, followed by Drew Otten drawing a walk and Malave Bettinger reaching on an error to load the bases. However, Mitch Heyne swung at the first pitch and hit a sharp ground ball to Wapak's shortstop Zweibel, who started a 6-4-3 doubleplay to end the game.
"We had an absolutely miserable practice last night. We ran them off the field," said Sammetinger. "... I told Nick (Sammetinger, Willie's son and Wapak's assistant coach) on the way home, 'They'll be ready tonight.' They sure as hell were."
"Season was a good one. A successful one," said Brunswick. "Boys worked hard every day and tried to make themselves better baseball players. They had fun doing it, so the effort was there. We just fell a little short of our goal."