Organizers hopeful of regatta's return
GRAND LAKE - Governor's Cup Regatta committee members are confident the boat race will happen on Grand Lake this year despite the annual event being canceled two of the past three years.
Sheriff's office investigating death
Thomas Williams found in a field near Hecht's Landing
CELINA - The Mercer County Sheriff's Office continues to investigate the death of a 42-year-old man found Sunday morning in a field near Hecht's Landing, 8483 state Route 219, Celina.
DamWatch program to warn of imminent flooding on Wabash
Under a new program called DamWatch, Wabash River Conservancy District board members will be contacted if there are imminent flooding issues associated with the three dams the conservancy maintains on the Wabash River.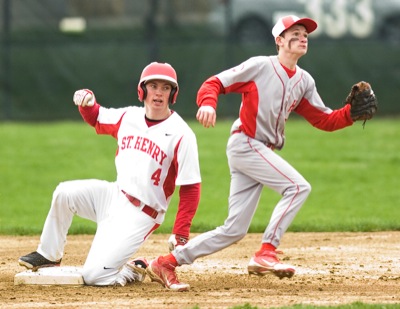 ST. HENRY - The St. Henry baseball team continued their domination of the WCSM-St. Henry Bank Invitational as the Redskins defeated the Anna Rockets 5-3 in the finals of the 20th annual rendition Saturday evening at the Wally Post Athletic Complex.
Celina, Minster cruise to twinbill victories
Local Roundup
Compiled by Gary R. Rasberry

Celina rebounded from a tough league loss on Friday by sweeping a doubleheader against Sidney on Saturday afternoon at Montgomery Field.