Wednesday, June 26th, 2019
Wildcats win wild one at Hanover
Ketner's single helps Minster sneak past St. Marys
By Colin Foster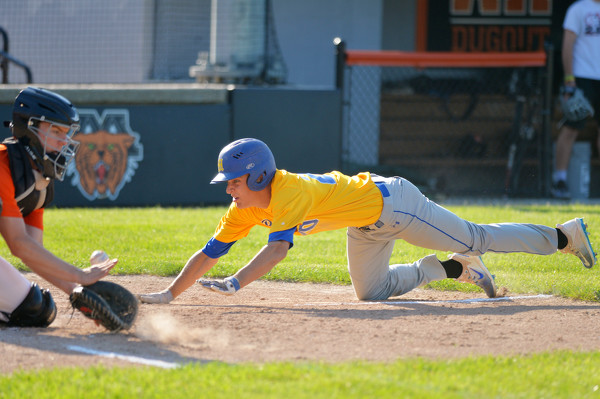 MINSTER - Adam Ketner hit a walk-off RBI single in the eighth inning to give Minster a 11-10 victory over St. Marys in a battle of ACME unbeatens Tuesday at Hanover Street Park.
The Wildcats (4-0) led 6-0 after one inning and 9-2 through five. But the Roughriders (6-1), held to just two hits over five innings, scored eight runs on six hits in the sixth to take a one-run lead. St. Marys recorded one out in the seventh but then Bryan Falk reached on an infield error. The bases were full with two outs after back-to-back walks, and a third straight free pass to Austin Brown evened the score at 10-all.
In the bottom of the eighth, Kyle Riethman reached base safely on an infield error. When Dan Gottschalk laid down a sacrifice bunt, St. Marys tried to get Riethman at second but the throw was errant. Ketner followed with a line-drive single to right center for the game-winning run.
"It was good seeing (Ketner) back there," Minster coach Jay Eilerman said. "We're feeling confident when he's in there."
Minster scored six runs on the benefit of one hit, five walks and three errors in the first inning. St. Marys starter Braedon Trogdlon forced a flyout before walking Ethan Lehmkuhl and Brown. Trent Roetgerman reached on an error, and Gabe Phillipps drew an RBI walk for the game's first run. Ketner later drew an RBI walk, two runs scored on errors and Dylan Sharp belted a two-run double to deep center.
In St. Marys' second-inning at-bat, Brown, Minster's ace, walked Trey Fisher and Andrew Ibrahim with one out. A botched pickoff attempt allowed Fisher to score, and Ibrahim later scooted home after Henry Spencer's groundout.
Trogdlon was pulled after allowing a hit to Lehmkuhl and then walking Brown in the fourth. A walk by relief pitcher Haiden Stidam to Phillipps loaded the bases to set up Jacob Niemeyer's RBI single. Brown also scored on the play when Phillips got caught in a rundown. Sharp collected his third RBI of the day with a sac fly, which made it 9-2.
Brown pitched four innings of two-hit baseball, striking out five and walking two. The hits came for St. Marys in the sixth, though.
Falk pitched a scoreless fifth in relief of Brown but encountered trouble in the sixth. Trogdlon, Riley Sweigart and Trey Fisher all had RBI hits to make the score 9-6. Henry Spencer added an RBI single, and a scoring error made it 9-8. Derek Fisher and Ethan Wedding followed with the game-tying and go-ahead doubles.
"After the first inning when we really just came out here flat, we just challenged the guys and told them they had a choice: they can either lay down or they can fight back," St. Marys coach Mason Gross said. "They did exactly that. They crawled back in it and didn't give up. Nobody hung their head. I was proud of them for that."
It was errors and finding the strike zone that continued to plague St. Marys, which had a combined six errors and eight walks in innings one, seven and eight.
Ketner and Jacob Niemeyer each had two hits for Minster. Trent Roetgerman was the winning pitcher, throwing the final 2 1/3 innings and recording four strikeouts without issuing a walk.
"What can you say?" Eilerman said. "That was a decently played game. We were good in the beginning and kind of fell off in the middle. But we did enough to come back and get two runs there in the last two innings to tie it up and win it."
Dylan Trogdlon, Sweigart and Wedding all had two hits for St. Marys. Stidam threw 3 2/3 innings of relief for St. Marys, allowing one earned run and three hits. Ibrahim was the losing pitcher.
Minster is back in action on Friday when Parkway comes to Hanover Street Park. St. Marys hosts St. Henry on Friday.